Solid State Logic, the world's leading manufacturer of professional digital and analogue consoles, proudly announces a new module for the X-Rack modular rack system: the Stereo EQ Module.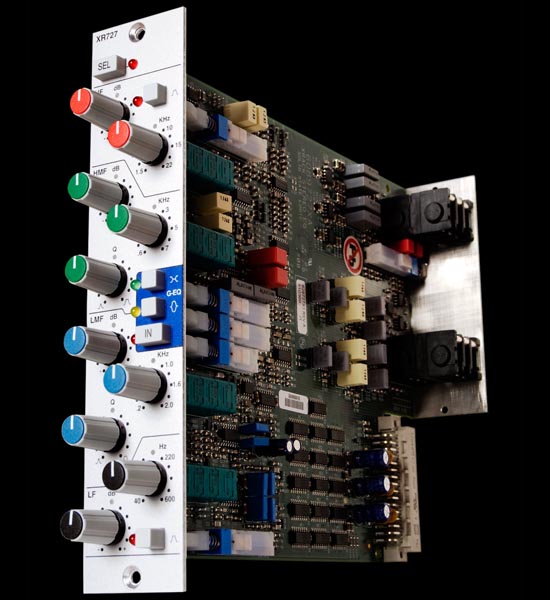 The X-Rack Stereo EQ Module is a stereo version of SSL's console Channel EQ. It is a classic SSL four-band parametric EQ that is a superb all round frequency adjustment tool kit. Whether you need pinpoint accuracy for surgical problem solving, smoother broader sound shaping, or a little more aggressive character the SSL Stereo EQ will give you what you need. This is a fully featured EQ with high- and low-bands switchable between shelving or fixed Q bell curves and two mid-bands each with variable Q control. This stereo version introduces a 'Selective Mode' switch which enables independent switching of high & low bands and mid bands between SSL's E & G series console EQ characteristics to provide an even more versatile EQ design.
Key features of the X-Rack Stereo EQ Module include:
· Stereo version of the XL 9000 K Channel Equaliser as used on Duality & AWS consoles
· 'Selective Mode' E and G characteristic switching, which enables independent switching of high & low bands and mid bands between E or G curves.
· High and low-bands switchable between shelving and fixed Q Bell curves
· EQ IN switch for A/B comparison
· Rear panel connections on balanced TRS Jack
· TotalRecall™ status LEDs
About X-Rack
Based on SuperAnalogue™ electronics from SSL's XL 9000 K Series console, X-Rack is a modular rack system with Total Recall™ that delivers the classic SSL sound in a uniquely versatile form. Each X-Rack chassis holds up to eight modules in any configuration; with the introduction of the Stereo EQ Module, eleven different modules are offered.
A selection of EQ, Dynamics and VHD modules can be combined to form comprehensive standalone processing solutions. Two different Mic Amp modules can be added to create high quality recording solutions. Standalone mixers can be configured by adding Master Bus, Four Input and Eight Input modules. The hugely popular X-Rack delivers the very highest-quality analogue recording and summing path and is the perfect configurable solution for studio or live applications.
The Stereo EQ Module will cost £699 + VAT.