The Virtual Piano that started it all, Ivory Grand Pianos redefined what virtual instruments could do, combining stunning, world-class piano samples with a powerful, software/DSP engine and custom user interface. Ivory's worldwide critical acclaim and popularity has made it the industry standard, and the virtual piano of choice for the world's most elite musicians.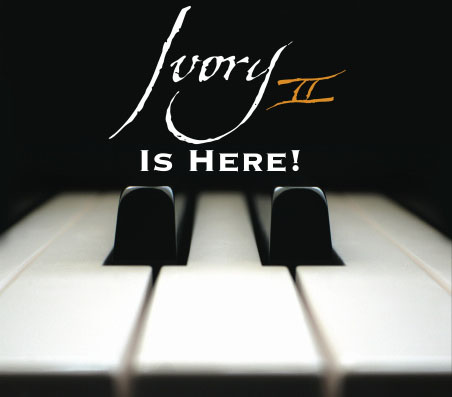 Now the world's most popular virtual grand piano collection just got better with the creation of Ivory II Grand Pianos. Featuring a greatly expanded sound set with nearly double the velocity layers, and the powerful, new Ivory II piano DSP engine with Harmonic Resonance Modeling for true Sympathetic String Vibration, Ivory II Grand Pianos soars at the highest possible levels of sampling and synthesis technology.
Ivory II New Features:
Up to 18 Velocity Levels Per Piano
Sympathetic String Resonance
Half Pedaling
Pedal Noise
Lid Position
Timbre Shifting
Parametric EQ
Tuning Tables
New Synth Layers and Synth Layer Controls
Ivory's Legendary Pianos—and more
Upgrade paths will be available to users of previous versions of Ivory products. Ivory II begins shipping on September 13th. Suggested retail price: $349.