Taking full advantage of the new midi features of the recently released iOS 4.2 Eyosido Software released their eyoControl app for the iPad. eyoControl lets you control your Digital Audio Workstation (DAW) software from your iPad in various ways, such as a control surface or a virtual instrument. eyoControl communicates with your DAW through the dedicated eyoControl Server running on a laptop or desktop Mac computer. The eyoControl Server lets you connect multiple iPads running eyoControl to play virtual instruments alltogether on the same DAW. eyoControl supports most DAW software such as Logic, Cubase.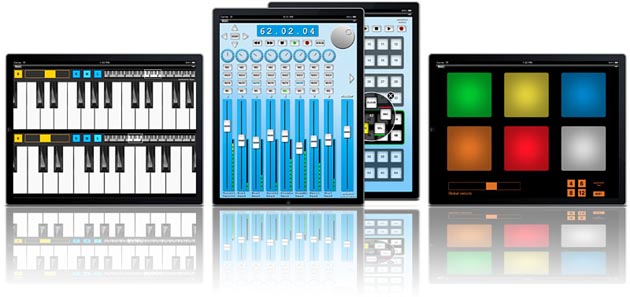 Surface
Surface is a control surface enabling access to various settings of your tracks through faders, knobs and buttons. Surface presents a traditional Mixer view as well as a Panel view, enabling fast access to the status of 64 tracks.
Pad
Pad is a MIDI controller with 4,6,8 or 12 programmable, touch-location sensitive pads. Each pad can be assigned a MIDI channel, color… Pad lets you play one or more virtual instruments on your DAW, such as drums or percussions.
Keys
Keys is a dual keyboard MIDI controller. Choose among three different key widths per keyboard to best fit your style, assign each keyboard to a different MIDI channel to play two virtual instruments on your DAW at the same time.
eyoControl Server
eyoControl Server is a free software to install on your Mac to link together eyoControl on your iPad and your DAW software. eyoControl Server communicates with your iPad through WIFI, and with your DAW through virtual MIDI ports. Multiple iPads running eyoControl can connect to the same eyoControl Server, enabling several people to play together on the same DAW.
eyoControl requirements:
* an iPad with iOS 4.2 or above
* a Mac computer (Intel/PowerPC). Requires Mac OS X v. 10.5 or later
* a local WIFI connection through which the iPad can connect to your Mac computer
* a Digital Audio Workstation (DAW) software (such as Logic, Cubase…) with MIDI in/out capabilities.