For the first time ever, the music industry is experiencing a huge power surge thanks to 64-bit technology. The SoundSlate PRO combines the latest in computer technolgy with proprietary software and design, delivering the next logical evolution in integrated music-creation and open-platform innovation.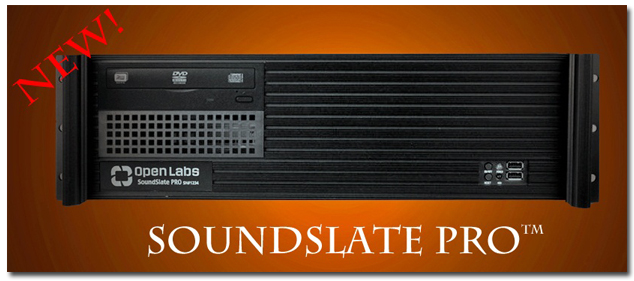 The SoundSlate PRO is your Production Studio, Playback System, VST Host, Sample Engine, Sequencer and Friend, live on stage or in your own home studio.
SoundSlate PRO hosts all PC-based music software such as: Pro Tools 9™, Studio One™, Reaper™, Ableton Live™, Cubase 5™ as well as hardware devices: MIDI controllers, drum machines, acoustic instruments, PCI/PCIe cards and other microphone preamps.
SoundSlate PRO gives you the flexibility and power to decide how YOU want to work WITHOUT the high costs and headaches of stand-alone computers or laptops.
Open Labs delivers the SoundSlate PRO at an unbelievable price in a time where value is always appreciated.
The SoundSlate PRO and all of Open Labs products are FUTURE-PROOF allowing you to continually upgrade your system to the latest in computing technology, sound design, performance and power.
The studio demands it, the stage demands it, your music demands it!