Posts Tagged 'Terratec Area61'
TerraTec Producer's Expandable Controller Keyboard AREA 61 will be available in spring this year.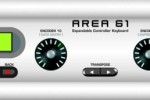 TerraTec Producer announced a unique keyboard at the Frankfurt Musikmesse – AREA 61. AREA 61 is an expandable keyboard system for studio and gigging musicians. It is a genuine musical instrument with freely selectable, integrated sound generators (optionally available DSP soundboards) that may also serve as a central control unit for all software sequencers and virtual instruments in computer-based music studios. So in fact it is not just a midi keyboard controller, but much more.