112dB announces that Big Blue Limiter, their tube-modelling character limiter, has been updated to version 1.1. This maintenance release applies to both the retail and the demo version. Big Blue Limiter is a character limiter. It is neither transparent nor intended to be. In fact it adds a little mojo to everything you run through it, if desired even when no limiting is taking place.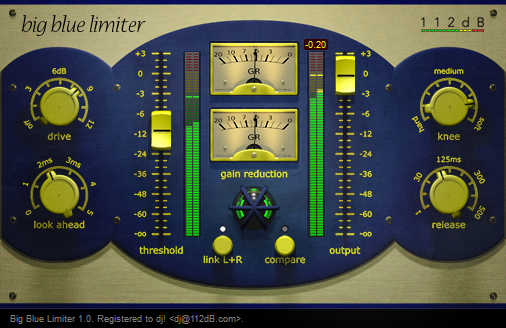 Big Blue Limiter uses analog tube modelling in its limiting circuitry, which makes any limited warmer and fatter by adding a pleasing amount of coloration. And as if that weren't enough it also features an independent preamp that just loves to be overdriven. With its versatile sound, intuitive interface, easy operation, and negligible CPU load Big Blue Limiter feels equally at home during a mix session and a mastering session.
What's new?
Modern skin by WitchGraft.
What's fixed?
– Scrolling the mousewheel down caused controls to jump to their maximum value.
– LookAhead knob was stuck in Ableton Live.
– Drive setting reset to off during Wavelab 6 render.
Availability
Big Blue Limiter is available immediately in RTAS/AS/VST/AU format for Windows XP/Vista/Windows 7 and Mac OS X 10.4 (Tiger), 10.5 (Leopard), and 10.6 (Snow Leopard). The introductory price of €99 (Europe)/$99 (worldwide) is valid through September 22, after which the regular price becomes €149/$149. An unrestricted 60-day evaluation version is available.
For more information please visit http://112dB.com An unrestricted 60-day evaluation version is available.