As we are in the middle of the review/test of our iPad and the almost endless list of music app's, we got news of the release of the Google Chrome OS Tablet later this year. Google is planning to release their tablet on November 26th. Better known as Black Friday, the busiest shopping day of the year in the U.S. It is pretty obvious that this Chrome OS Tablet will be the main competitor to Apple's iPad. But will it be an iPad killer? The general expectation is that the Google tablet will have Flash, something that is missed by many on the iPad. And also what will this mean for the development of (music) app's for the Chrome OS Tablet? A feature that specifically WE (Gearjunkies) are interested in.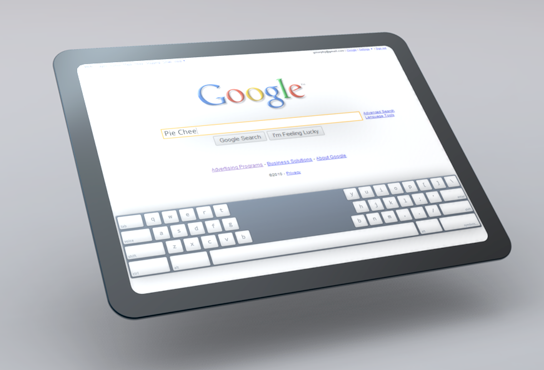 Just like Apple, Google is very silent prior to its final release later this year, so the picture (render) above is the only thing we can show you at this moment. However it is very well possible that specifications for the Chrome OS Tablet could be to run on NVidia's Tegra 2 platform with a 1280×720 multitouch display, 2GB of RAM, minimum 32GB SSD, WiFi/Bluetooth/LTE connectivity, GPS, webcam. But again these specs are merely assumptions.
But the fact that Google is launching this tablet is absolutely real. The tablet is being manufactured by HTC which also manufacturers the Nexus One for Google.