The Korg M01 is a palm-sized Music Workstation for the Nintendo DS and DSi, based on one of the most populair synths in the eighties, the Korg M1 workstation.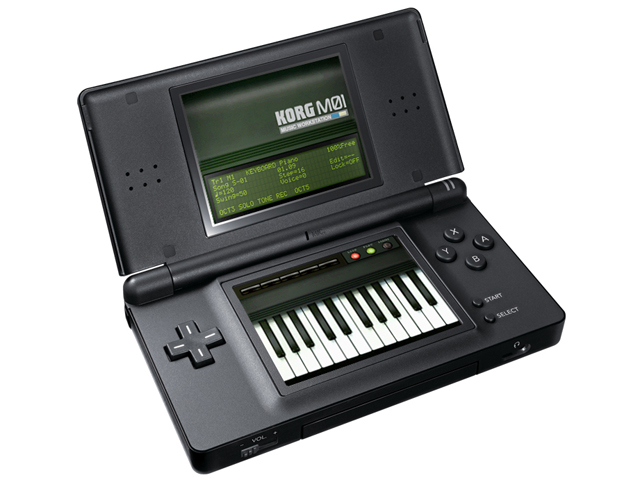 The Korg M01 is multitimbral and had the original sound engine from the M1, including the famous "M1 Piano" and other presets and PCM waveforms. KORG M01 will have over 300 presets, included new sounds. All presets can be organized by sound category in the browser, and you can tweak all the sounds.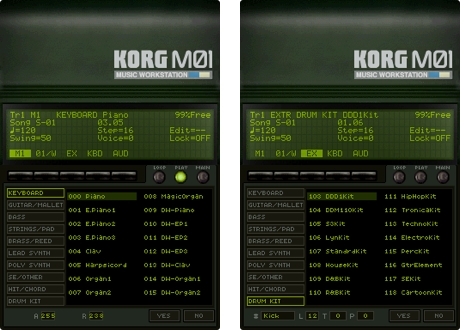 The M01 has a fully functional 8 track sequenser, mixer and effectens such as reverb and delay. You can chances filters, note snales, there is a chaoes mode. And you can control the Kaosspad with your stylus on the toush screen from the Nintendo DS or DSi. You can exchange sounds and songs with other users. All date will be transferred by WIFI.
Some specs:
– 8-part multi-timbral synthesizer with more than 300 sounds including whole of the original PCM data in the KORG M1 (maximum 12 voices)
– 8-track/16-step sequencer (maximum 64 steps per a sequence)
– 1 Master effect: Reverb or Delay
– Simple and well-composed screens structure: Track overview, Sound browser, Sequence edit, Mixer, and Keyboard
– Easy input mode for notes, chords, and drums with Touch control screen
– Exchange of song data between the others with Nintendo DS wireless system
KORG M01 will be released in Japan in December, 2010, the rest of the world wil follow soon. More info on the Japanese website www.detune.co.jp.