Custom-engineered by Waves and multi-Platinum mixer Tony Maserati (Black Eyed Peas, Beyoncי, Usher), the brand new Maserati GRP Group Processor was designed especially for group tracks, to put the finishing touches and sheen on background vocals, drums, master outs, and more.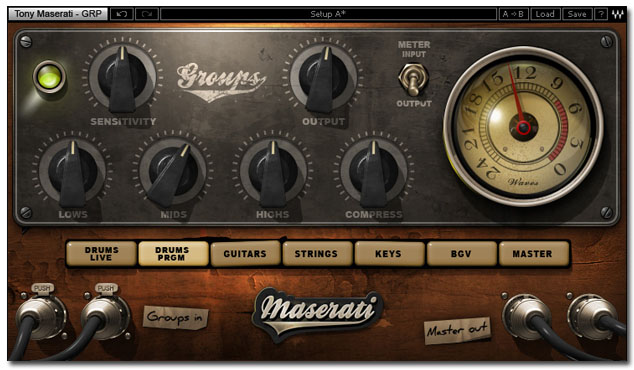 Tony Maserati on the GRP Group Processor: "The Maserati GRP plugin is meant to help that final blend jump out a bit. It's got a nice bit of equalization involved but no effects, no shredders, none of that kind of thing. In fact, the compression that I'm using in the network there is very, very subtle, because generally I don't do major compression over my groups. It's meant to add a nice sheen on a great blend of background vocals or compress a drum kit together, make it really feel like it's got some nice air to it."
Featuring:
Complete all-in-one processing chains
Mono and stereo components
Optimized control ranges
24bit/96kHz resolution
Double precision bit resolution processing
Supports RTAS, Audio Suite, VST, AU
PC and Mac compatible
The Tony Maserati Artist Signature Collection is Native only, and requires iLok authorization. Available separately and in Waves Mercury.