Avid surely is busy these days. After last months introduction of the new Mbox family, they now announce a new Pro Tools|HD Native system. Avid Pro Tools|HD Native takes full advantage of today's high-power computers by offering you some of the top features of Pro Tools|HD at an incredible low price. Pro Tools|HD Native gives you blazing fast I/O, near-zero latency, automatic delay compensation, and full integration with Avid's HD line of interfaces, leaving your CPU to handle plug-ins and mixing.
If you're budget minded but still demand results from your DAW, have one of these high-power computers, and prefer to track with outboard signal processors (rather than plug-ins), then Pro Tools|HD Native is perfect for you.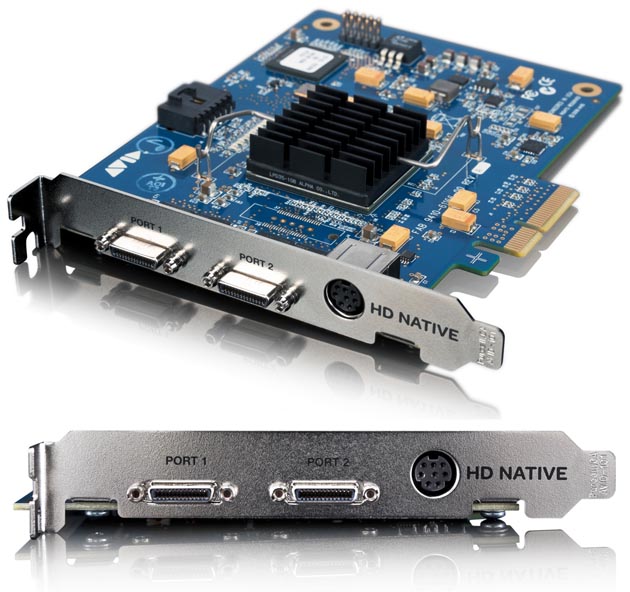 As a basic system, Pro Tools|HD Native consists of an Avid Pro Tools|HD Native Core PCIe card card, Pro Tools|HD software, and an Avid HD interface. These interfaces include the HD I/O, HD Omni I/O, and HD MADI I/O, as well as the legacy 192 I/O, and 96 I/O. DigiLink Mini inputs on the Pro Tools|HD Native Core card provide I/O for up to two separate interface connections and up to 64 channels of ultra-low-latency I/O.
Other than TDM plug-in support (which requires DSP), Pro Tools|HD software runs the same with a Pro Tools|HD Native Core system is it does with a Pro Tools|HD Accel system. You get 192 channels of audio (64 at 192kHz), as well as 7.1 surround sound support, Copy to Send, complete multitrack Beat Detective, and other great functions previously unavailable for a native Pro Tools system. And if you're stepping up from a Pro Tools LE system, you'll get all of the plug-ins you already know and love.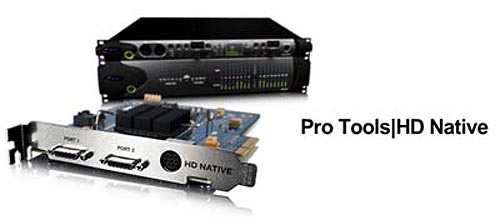 Avid Pro Tools|HD Native Core Card Features at a Glance:
* PCIe interface card
* Compatible with Avid Pro Tools|HD
* Supports Core Audio and ASIO applications
* 2 x DigiLink Mini ports interface with Avid HD interfaces including HD I/O, HD Omni I/O, HD MADI I/O, 192 I/O, and 96 I/O
* Serial port interfaces with SYNCH I/O
* Provides 64 channels of I/O with almost zero latency
* Includes Pro Tools|HD DAW and bundled plug-in software
* Supports full HD feature set including:
o Support for Mac OS X 10.6 and Windows 7
o 192 audio tracks, 128 busses
o Auto delay compensation on hardware and software inserts
o VCA Mixing
o Solo Bus AFL/PFL
o Input Monitoring
o Destructive/TrackPunch
o Machine Control
o ICON Support
o Advanced audio and video editing