Recently we had the pleasure to do a review on the FabFilter Pro-C compressor plugin. This time it's the FabFilter Pro-Q. This is an allround EQ plug-in for mixing and mastering, with up to 24 bands and a nice and helpful interface for easy and precise editing.
Usage
The first time when you start up the Pro-Q not much happens. You get the little HELP balloon, asking if you need any assistance with the use of Pro-Q. Of course you can use this feature if you are new to EQ'ing, but for the sake of this review I am not going to use the free help!
The first thing you see is the spectrum screen with a thick yellow line which represents your curve. Now you can add EQ bands. These bands are shown by smaller lines with different colors. Adding new bands is quite easy. Just double click at the point you want to add a band and that's that. Now you can grab the point (a little colored circle/node) and move it to wherever you want your band to be.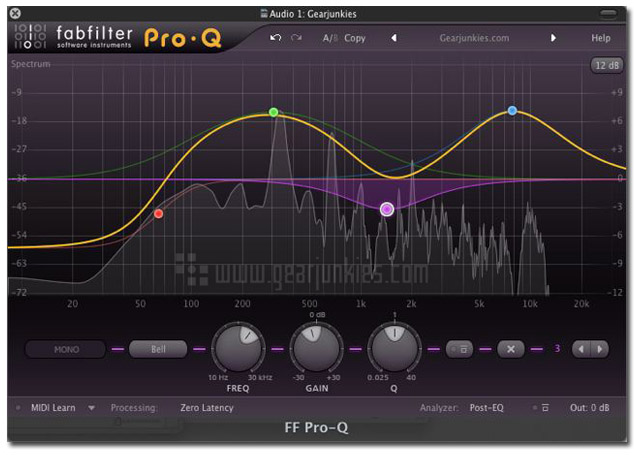 Beneath the spectrum screen you make settings for the EQ. You can set if the settings apply for just left, right or both (if you work with a stereo track). Furthermore you can set the shape (Low Cut, Low Shelf, Bell, High Shelf, High Cut), the Frequency, Gain and the Q-Factor. Next to these buttons there are buttons to bypass or completely remove the band. The FREQ, GAIN and Q buttons are large rotary buttons which you can operate with your mouse, moving up and down. For more accuracy you can hold the shift-button of your keyboard and move the mouse over them or when you need an exact value you can click on the buttons and fill in the value you need (text entry mode).
Extra Features – Linear Phase Processing
Underneath the buttons discussed above there is a second set of (smaller) buttons. Here you can set the type of processing for example. The default setting would be Zero-Latency, Pro-Q will process the signal as fast as possible. Using this setting would shift the outgoing signal which could result in unwanted phase cancellation. With Zero-Latency it is likely you get transients, which sometimes are welcome but more often they aren't.
With the Pro-Q you have five different processing modes. The default Zero-Latency and four different Linear Phase process types, with a choice of four latencies. Linear phase modes introduce latency and will increase CPU usage, but they can help fix phase problems. So the choice of these four process types is a welcome option:
– Low Latency. This type has a latency of 70ms which will work well in the Mid and High EQ frequencies
– Medium Latency. This type will have a latency of 139 ms. This will work well on the low frequencies (actually the best option for a low latency and a good 'low')
– High Latency. A type with 279 ms latency that functioons well with a high Q factor on the low frequencies
– Maximum Latency. Here we have 557 ms latency (more then half a second!). This type will probably give you pre-echo's and such, but then again it gives the best equalisation there is!
The Pro-Q features a built-in 'spectrum analyzer' which can be very useful as a visual feedback tool. This analyzer shows both the pre- and post-EQ signal, showing you what you are EQ'ing! The make-up gain is between +40db and -INF, which is more then enough I think.
Conclusion
The FabFilter Pro-Q demands its place among the EQ plugins with a strong voice. It has a very clean, simple and user-friendly graphic interface. Personally, I don't think I have ever seen a better one. It is not just the good looks! This plugin backs it all up with audio quality. The Pro-Q is priced at 149 euros. That's not cheap for an EQ, but after working with it I can state it's all worth it! Dare I to say that every studio should have it installed? … Yes I dare! And for those of you who would like to experience the Pro-Q themselves, FabFilter has a 30-day trial version with full functionality available for download.
Wytse Gerichhausen
Our thanks goes out to the guys at FabFilter for the review version and cooperation.