Native Instruments has started to tour the new S4 KONTROL, Native's own DJ controller for their Traktor DJ software. Yesterday the dutch importer Amptec gave an exhibition of this much anticipated controller at Bax-Shop in the Netherlands. Gearjunkies was invited to get a first 'hands-on' look at this new DJ controller from Native Instruments.
First Impressions
The S4 has a sturdy and solid feel to it. It has two jogwheels of which I imagined they would be bigger. However, after using them and playing them, they were fine, no problem with the size of them. The jogwheels are touch sensitive. To scratch you have to press them a bit harder, which I actually liked. It adds to the 'scratch experience' I think.
All the press buttons for the effects feel solid as well, and all of them are located logically. My initial thoughts were that Native Instruments really thought this through. Like the X1 controller you can assign three effects per deck. Needless to say that the S4 faders have the same quality as the rest. The overall built quality is as I did expect from native Instruments, … very good!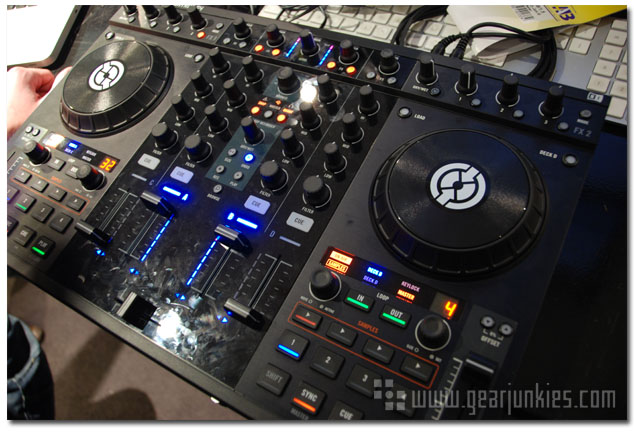 Before I continue just a little info on the S4 Traktor software. This accompanying software is an upgrade of the Traktor Pro software. This upgraded software has gotten a few changes. First one that is noticeable is the new design. I liked this very much. For the four decks you have the choice of three modes: DJíng, Sample Play or Direct Audio.
A feature I personally was looking out for was the option of four sample players in this upgraded Traktor software. The four sample players are easy to use. Each player can load and play a sample, loop or any other audio file. Each Sample Deck holds four samples or loops. You can even directly grab loops out of a running deck! In total you can chop up to 32 bars, … in real time! Another new feature is the record/loop function of the S4. This feature lets you create loops or samples, also in real time during your set. The cool thing is you can layer them, play them and sync them with your set, … again in real time! In short, this feature allows for live track remixing and mashups on-the-fly.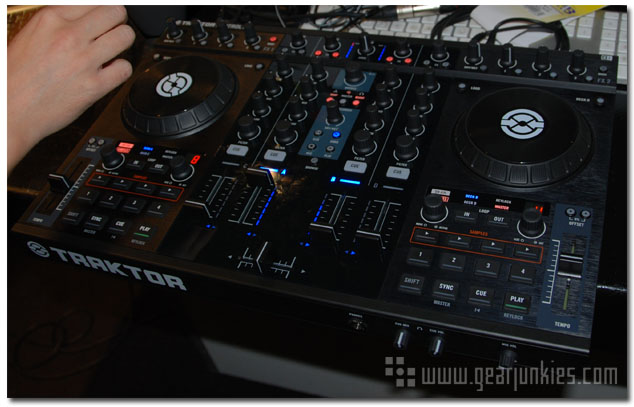 And there is so much more, but we like to keep some of these new features for our complete Gearjunkies review later. After experiencing this S4 yesterday, I can't wait for the review unit to arrive. However, we found out the S4 is already in high demand. The pre-orders were already stacking up … big time.
To summarize in short: The S4 KONTROL is a solid and sturdy unit with great looks and an awesome set of features that would make any DJ life better. The S4 is ready for any competition with other controllers that are available at the moment.
I want to thank Leon Hoeks (AMPTEC) for the exhibition of the S4 KONTROL and of course Bax-Shop for hosting the event.
Marc van den Hurk