Voxengo is pleased to announce the release of Soniformer version 3, a spectral mastering dynamics processor plug-in for professional music production applications, available in AudioUnit and VST plugin formats, for Mac OS X (v.10.4.11 and later) and Windows (32-bit and 64-bit) computers.
During its operation, Soniformer splits incoming sound signal into 32 spectral bands. This makes Soniformer a powerful and precise tool for mastering and sound restoration purposes. Every parameter in Soniformer is defined by means of a graphic envelope which is freely-modifiable and which may contain unlimited number of control points. Beside usual threshold, attack, release and compression/expander ratio parameters Soniformer offers you control over "stereo width" and "panning" parameters making Soniformer an effective tool for stereo field adjustments.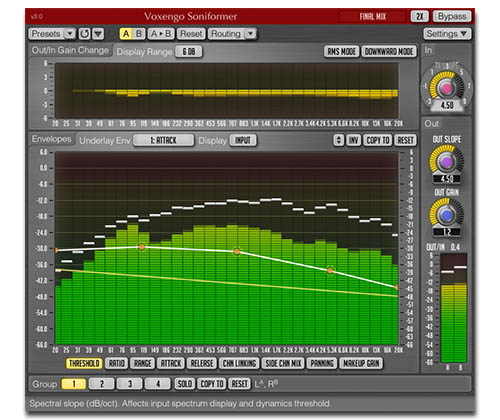 Not only Soniformer offers you an easy-to-use parameter envelope editing interface, it also features a comprehensive set of spectral metering tools: you can switch between input, output, stereo correlation and stereo balance spectrums. The spectral gain change meter which always presents on the user interface gives you an outline of the overall signal power change applied by the plug-in's processing chain.
Soniformer 3.0 added the following features since version 2 (version 3 can be used in projects alongside version 2):
* Stereo balance and correlation metering
* Range envelope
* Linear-phase oversampling
* Multi-channel support
* Multi-platform support
* Routing matrix
* Preset manager
* User interface coloration
* User interface re-scaling
* Channel grouping
* Plug-in instance naming
Introductory price of USD 89.95 will be effective for three weeks from now, which is 20% off the regular price of USD 109.95. Upgrading from the previous version costs USD 49.95 if previous version was purchased earlier than 90 days from now: otherwise the upgrade is free during this grace period. Demo version of Soniformer can be downloaded freely at the Voxengo website.