Antares Audio Technologies has announced the availability of Mic Mod EFX, a modern incarnation of their acclaimed Microphone Modeler plug-in.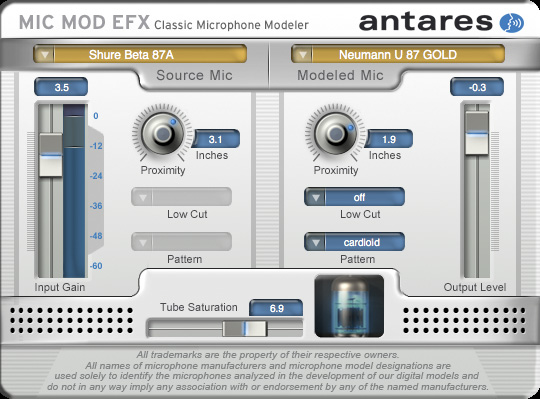 Using their patented Spectral Shaping Tool technology, Antares has created precise digital models of a wide variety of historical classic and exotic microphones. With models of over 125 microphones, Mic Mod EFX makes it possible for users to record each track through a model of the specific mic that will best produce that ideal sound they're looking for. It can also be used in live performance to get the sound of mics that most performers would never consider using on stage. It can even be used during mixdown to effectively change the mic on an already recorded track.
Mic Mod EFX has been designed to be extremely easy to use. One simply tells Mic Mod EFX what microphone they are actually using and what microphone they'd like it to sound like. Audio is first processed through a "Source Mic" model which serves to neutralize the known characteristics of the input mic. The audio is then processed by a second "Modeled Mic" model which imposes the characteristics of the modeled mic onto the neutralized signal. Finally, the audio is passed through a model of a high-quality tube preamp, offering the option of adding the warmth of classic tube saturation distortion.
Not only do Mic Mod EFX's models reproduce all of the subtle sonic characteristics that make each microphone unique, but they also give control of each mic's specific options. If a mic has a low cut filter, the model provides the specific settings that are available on the actual mic. If the modeled mic comes with a windscreen, there are separate models with the windscreen on and off. And if the mic provides one or more directional pickup patterns, Mic Mod EFX's Proximity control allows the user to reproduce the proximity effects of different mic distances based on the specific physical properties of the actual mic.
"Back in 2000 when we introduced the original Microphone Modeler, it won that year's TEC Award for Outstanding Technical Achievement in Software Signal Processing and garnered rave reviews from musicians, engineers, producers and the music industry press," said Marco Alpert, Antares VP of Marketing. "With Mic Mod EFX, we're extremely pleased to be able to introduce that technology to a new generation of musicians and engineers, at a fraction of the cost of even a modestly lust-worthy mic."
Mic Mod EFX has a U.S. MSRP of $159.00. However, until the end of the year, it is available at Antares dealers for a special low introductory price. Details are available at Antares dealers worldwide. Mic Mod EFX is available for RTAS (Mac OS X and PC), VST (Mac OS X and PC) and Audio Units (Mac OS X). All Macintosh versions are universal binaries.
Upgrades to Mic Mod EFX are available for purchase and download by registered owners of the original Microphone Modeler plug-in. More Mic Mod EFX information is available at the Antares website.