Nomad Factory proudly announces the launch of "MAGNETIC", a truly realistic "Real to Real" audio tape warming effect plug-in that gives your audio tracks the exclusive vintage tape sound which your ears crave. This effect can inject sterile audio with the warmth and character of classic tube circuitry and analog tape saturation. The plug-in features pure analog reel-to-reel tape speeds, tape/tube saturation and tape color effects, as well as a dedicated vintage style EQ and a built in Boost mastering section. The result is a creamy, warm sound that can only be achieved by MAGNETIC.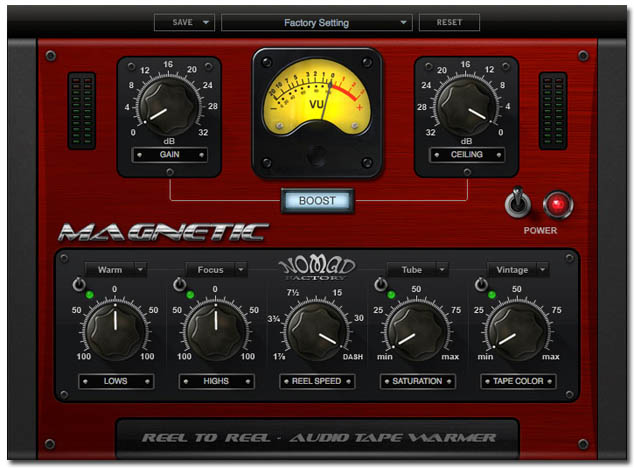 Never before has such a great sounding plug-in effect been so easy to use! At first touch, the plug-in's interface is modern, simple, and extremely user-friendly which instantly allows you to dial in usable sounds.
MAGNETIC can be used in many different musical ways. Try using it on individual tracks to add subtle warmth and tape color to your drums or use it to create a filtered cassette AM-radio effect on a vocal. But that's not all… when used on the master bus, MAGNETIC can warm your entire mix and "boost" it up to broadcast level. It's just like having a 30+ year old reel-to-reel tape machine at your fingertips, without all the maintenance costs.
From Today till November 30, 2010 the new MAGNETIC plug-in will be sold at introductory price of $49 (MSRP $199) or as part of a hot Group-Buy promotion. Learn more from the Nomad Factory website.