XILS LAB, leader in virtual synthesis technology, is proud to announce the launch of PolyKB mk II, the recreation of a very rare and very powerful polyphonic synthesizer released in the 80's. PolyKB II captures the sound and spirit of the legendary RSF PolyKobol Analog synthesizer including one of it's most stunning features : A continuous morphing Oscillator, which can be fully modulated by many sources.
The PolyKB II is a polyphonic subtractive synthesizer based on two waveform morphing, aliasing free oscillators and a self oscillating 4 poles low pass filter. The amazing oscillators take a large part of the sound of this synthesizer while the filter recreating a standard analog chip of the 80's (with the help of very complete modulation sections), allows the PolyKB II to create incredibly warm sounds from gorgeous basses to slowly evolving pads, through aggressive leads and thin crystal keyboards as well as a huge range of incredible special effects that all sound designers will love to use…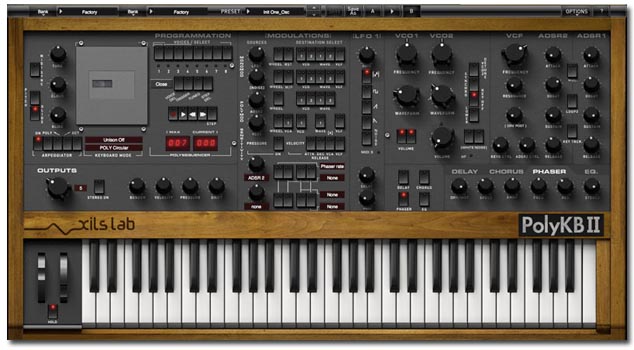 What's New in PolyKB II?
While PolyKB II retains the uncompromised state-of-the art analogue characteristics of V1, the folks at XILS Lab have added many great features that were not available on yesteryear's sought-after classic hardware synths. PolyKB II now combines the best of both worlds — vintage and modern :
• Modulation has been enhanced in the three modulation matrices
• All can now have a negative value applied (V1 always being positive), while an additional "Velocity Control Mode" now allows a huge dynamic range !
• A number of new modulation sources and targets have been added, including Monophonic LFOs (allowing Mono and Poly LFOs in the same patch)
• The implementation of a unique Time Multiplier system allows all envelope times to be multiplied by x2, x3, or x4 — all with a simple click.
• Two new effects have been added — Phaser, plus a special Dual EQ, with a unique and musical-sounding Contour function.
• The Arpeggiator now includes a Polyphonic mode, as well as Gate and Swing parameters, making it far more versatile.
• The proprietary D-Myx Stereo XY Pad tool now benefits from two dynamic modes, allowing a controlled motion between the points with full visual control.
• The proprietary P-Myx Polyphony-controlled XY Modulation Pad can now send negative modulation amounts, allowing notes to sound different each time they're played – kiss goodbye to boring, static sounds, forever !
• An easier-to-operate Polyphonic Sequencer now has a magnification tool and shift step function — very handy for real-time recorded patterns.
• Responding to user feedback, PolyKB II benefits of an ergonomically and cosmetically-revamped GUI, viewable in three sizes (Small, Medium, and Large)
• An improved, intuitive management system based around a powerful dual-hierarchical filtering concept, allows users to quickly find whatever patch they're looking for.
• 250 new hot patches now takes advantage of all these features — almost all new presets react to Mod Wheel.
• New patches will be available right after PolyKB II's release date.
* All owners of the previous version of PolyKB can upgrade to PolyKB II for FREE
From Today till December 19, 2010 the new PolyKB II Synthesizer will be sold at introductory price of ONLY $89 (MSRP $199) or as part of the "Ultimate XILS-Lab bundle" sold during the same period at ONLY $189 (MSRP $398).