DJ Tech is proud to present the Reloaded, the newest addition to our line of MIDI controllers. The Reloaded provides an all-in-one control surface with an integrated sound card. The Reloaded's low latency 4-in/4-out sound card includes the necessary ASIO drivers and provides pristine audio quality. It is all a DJ needs in order to plug directly into a club's PA system.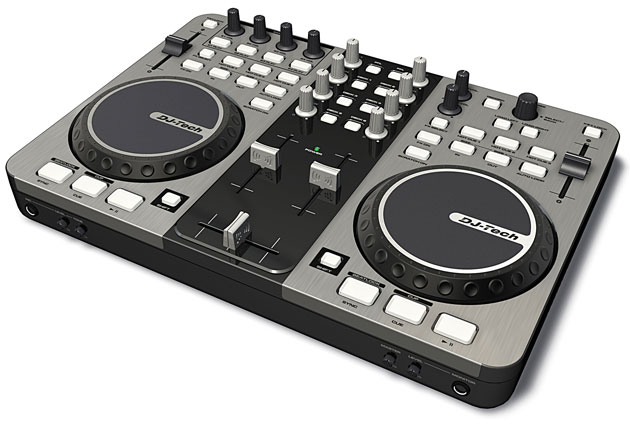 This high quality, lightweight and rugged MIDI controller allows 4 deck control with the included Virtual DJ LE software. The Reloaded also allows the user to directly trigger samples thus allowing up to 6 decks real-time control with the full version of Virtual DJ Pro. The Reloaded contains all of the normal transport functions including play/pause, cue, and sync. Additionally, the unit provides direct access to 3 hot cues per deck, in/out loop, and autoloop. The rubber knobs for allow for comfortable, sturdy, and direct access to the EQ functions, sample volumes, and track selection. For the scratch DJs, the Reloaded includes two high-resolution, touch sensitive jog wheels with an adjustable cross fader curve.
Finished in brushed aluminum, the Reloaded can withstand the most demanding club environments, yet still has a compact and mobile form factor for easy mobility. Carry less and do more with the DJ Tech Reloaded!