PreSonus has released the first dedicated wireless control software for a small-format digital console: StudioLive™ Remote software for the Apple iPad®. At last, you can have wireless remote control of any PreSonus StudioLive-series digital mixer's channels, auxes, effects, subs, Fat Channel processors, and more. Not only can these functions be controlled from anywhere in a venue by the front-of-house sound person, but custom aux mixes can be simultaneously adjusted by any performer with an iPad.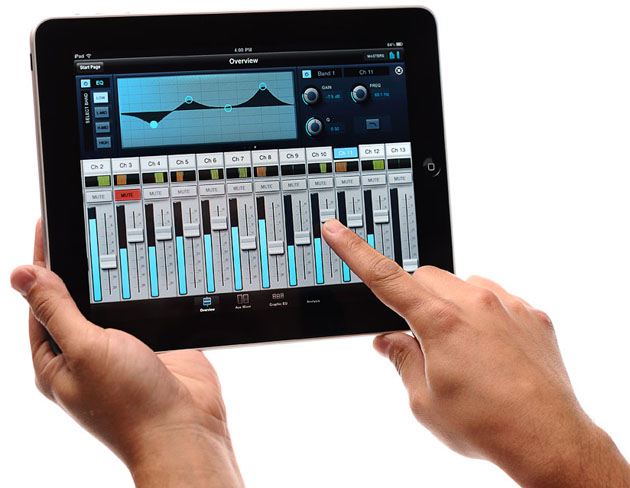 StudioLive Remote, available free from the iPad Apps store, provides direct wireless control over PreSonus Virtual StudioLive software for Mac and Windows, which in turn controls the StudioLive mixer.
Can't set up your StudioLive mixer front-of-house? Put it on stage; grab your iPad, running StudioLive Remote; and stroll to the back of the hall to adjust the main and aux mixes, channel settings, Fat Channel processing, effects, and graphic EQs. Need to tweak a monitor mix while on stage? Now you can!
"While there are iPad apps for digital mixers costing tens of thousands of dollars, StudioLive Remote is the only iPad solution for affordably priced mixers," notes PreSonus CEO Jim Mack. "It's a free app and is part of the free Virtual StudioLive computer-control system that also ships free with both our 24- and 16-channel digital mixers."
StudioLive Remote is a true iPad app, not a port. It provides multiple views of the key StudioLive mixer controls. The Overview displays the most-used parameters, such as channel levels, mutes, panning, EQ curves, and more for multiple channels at once. Click for a close-up view of Fat Channel processing, and navigate between gate, compressor, EQ, and so on with the flick of a fingertip. The Aux view shows you the levels, panning, and Fat Channel processing for the Aux sends and internal FX buses. Again, you can move between processors with a flick of a fingertip. And of course the GEQ view lets you adjust the graphic EQ. Finally, hold your iPad in Portrait position and scroll through the channels and buses to see every parameter up close.