Phil Morse from Digital DJ Tips has managed to get a picture of the to-be-announced Numark NS6 4 channel DJ Controller. As expected this controller will probably be a strong competitor to the other dynamic duo, the Native Instruments S4 Kontrol and the recently released Denon DJ DN-MC6000.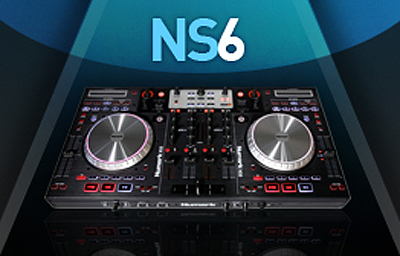 Some basic specs:
Pro 4-channel digital DJ controller
Built-in standalone 4-channel mixer, seemingly with on-board effects
Four decks of software control
Phil Morse:
"… the controller looks like it has similar jogwheels to the Mixtrack and Mixtrack Pro (a good thing, the jogwheels on both of those models are excellent); the same build quality overall as the NS7, N7 and X5/X7 products (ie completely pro); long-throw pitch controls; 6 cue points per deck (underneath the jogwheels); and strip search for quickly scrubbing through loaded tracks.
Plainly meant to fit in as a smaller, cheaper (and ultimately more flexible) model to the class-of-its-own Serato ITCH controller the NS7, the NS6 looks to be right up there with the other two controllers mentioned."
It seems that Numark is unveiling two other controllers at the same time at the NAMM. This should be fun to see!