Novation is pleased to announce a free update to its hugely popular Launchpad app for iPad, introducing the ability to record performances and share them via Dropbox, Soundcloud, and email. In addition, improvements to the Audio Import upgrade allow users to categorise their sounds and create individual libraries.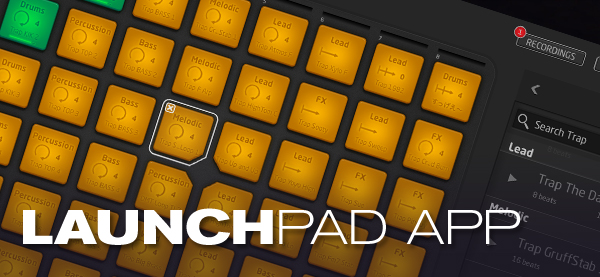 Novation Launchpad
This is an easy-to-use app for iPad that will have you making beats and music instantly. It comes with eight ready-to-perform sessions that span different musical genres, with regular new content delivered via In-App Purchase. Browse categories, packs, and favourites from your library to create your own sessions on the multi-colour Launchpad grid, and make and remix your music. Built-in time stretching and synchronisation always keep you locked into the beat – so your loops won't go out of time – and recording and exporting to Soundcloud, Dropbox, and email let you share your performances.
What's new in 1.3?
Record your performance
Share mix via Dropbox, Soundcloud or e-mail
Change category of imported samples
Various bug fixes, refinements, and workflow improvements
Audio Import
For power users, Audio Import is available via In-App Purchase to allow you to import your own loops and sounds into Launchpad app. Import audio via Dropbox, categorise your sounds, and transform Launchpad app into a powerful performance tool for playing your own original music – with per-pad volume editing to ensure the whole session sounds just right.
The app follows some of the key features from the renowned Launchpad hardware – now used by many of the world's most famous DJs, producers and performers – but brings a whole new level of simplicity and fun.
Eight volume and eight filter sliders allow quick changes, and simple FX modes offer DJ-style effects including beat repeat and filter LFO, adding fun ways to remix your music and make your performance unique.
Features
8×6 Launchpad grid for launching up to 8 loops and sounds at a time
Eight volume sliders and eight filter sliders
FX section for adding repeat and synced filter effects
Free professional loop and sample library from Loopmasters
Record and share your performances
Regular In-App Purchase Launchpack libraries
Import your own sounds (In-App Purchase)
Load new complete sessions and sounds
Global tempo change
Edit mode for loading samples
Autosave – never lose your sessions