Acoustica announces the release of AeroMIDI 3D MIDI controller software. This groundbreaking software allows users to trigger notes and MIDI continuous controller messages with hand and finger movements in 3D space. AeroMIDI works with any MIDI software or hardware including synthesizers, lighting rigs, DAWs, effects, virtual instruments, and more.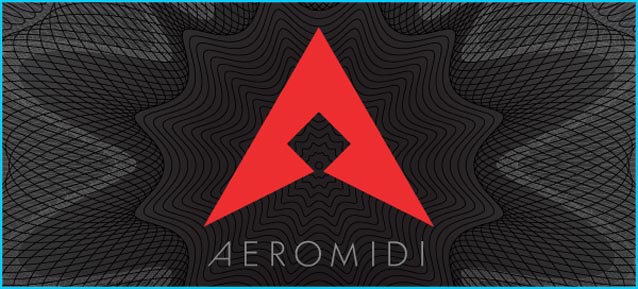 AeroMIDI
The software enables control of six expression parameters using only one hand, or use both hands and control up to 12 simultaneous expression parameters. User-defined virtual spaces called "cubes" and "zones" allow easy triggering of events, beats or notes. Perform a gesture, such as a two-fingered swipe to the left, and suddenly you've enabled a whole new mode or set of expression controls and MIDI actions.
Simply plug a Leap Motion Controller into a USB port, load and install the AeroMIDI software, and start your MIDI software or external synthesizer. AeroMIDI then sends controller data and notes to MIDI software or external hardware. Control synthesizers, lighting rigs, visualizers, DAWs, effects, virtual instruments, and any other MIDI-capable hardware or software with AeroMIDI.
Product features and benefits
Gestures translate hand movements with incredibly low latency.

Translate hand & finger movements and rotation to MIDI controller data with incredibly low latency.

Play notes by moving or rotating hands.

Configurable virtual 3D cubes let you build your own custom controller interface.

Simultaneously control MIDI expression parameters in three dimensions, including hand rotation.

Windows- and Mac-compatible. (Windows 7+ and Mac OSX 10.6+)

Requires the Leap Motion Controller. (Support for other 3D input devices coming soon.)

Works with all MIDI software, hardware and DAWs, including Acoustica's Mixcraft 6.
Dependent on MIDI software/hardware, AeroMIDI may be used to
Start and stop (retrigger) music loops via gestures.

Beat juggle by moving or rotating hands.

Control any synthesizer or effect parameters such as resonance, glide or a dubstep wobble.

Control MIDI-enabled lighting equipment and visuals.

Play notes and chords.

The sky's the limit!
AeroMIDI MSRP is $29.99. Visit Acoustica at Winter NAMM at Booth 6428, Hall A for a one-on-one demonstration of this trailblazing new software. For more information and review copy inquiries, please contact Anthony Conte at anthony@acoustica.com or visit them online at aeromidi.net.