Lemur, the professional iOS controller app that doesn't cut any corners, has evolved. Now easier to use than ever, more customisable and with more out-of-the-box functionality. Any software or hardware that receives MIDI or OSC can be controlled by Lemur. Control DJ software, live electronic music performance software, studio production software (DAWs), VJ software, visual synthesis software, stage lighting and more. Lemur 5.0 introduces major new features, including Canvas and Sequencer objects. The update is available now on iTunes, free for existing users and new low price for new users.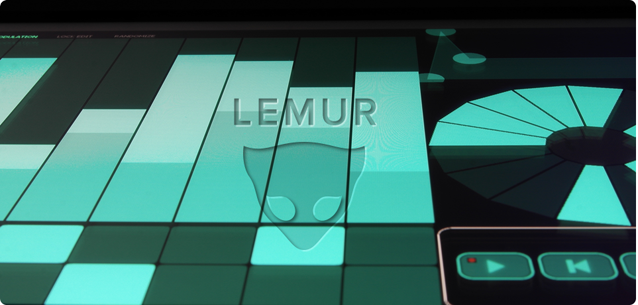 Canvas
The Canvas object opens the door to a completely new Lemur experience, where the appearance and behaviour of objects can be designed to precisely match the demands of your project. Polygons, waveforms, circular objects and infinitely more are all possible with Canvas.
Container
Organise things with a Container. Put all the controls you need for one part of your performance in one tab, then simply push the next tab to reveal a whole new bank. This feature will definitely allow you to greatly improve interface layouts and ergonomics.
Custom Button
The Custom Button can display any text, or any icon from a wide selection. It can act as a pad or switch, and have two different looks for the on and off states. Use these to identify important performance controls. Make them as big as necessary or as small as you like.
Fader
The Fader tracks your finger and sends a value corresponding to the position of the fader cap. The fader can be set horizontally or vertically and resized in both directions. The value as well as its label can be displayed. Other available options include physical model (linear interpolation or mass-spring) and object colour.
Knob
Coming in endless, bipolar and classic flavours, the Knob object feels right at home mapped to synth controls, or serving as a rotary selector for plugins and instruments in your favorite DAW. It can be set to any size or color, as well as displaying the value in any format you wish.
Leds
The Leds Object is a two-dimensional array of Leds. It can be anything from a single led to a whole matrix, all with their individual light and value parameters. The Leds are transparent to touch but not transparent in terms of display. This means you can use them on top of other objects for special displays.
Menu
The Menu Object is a "pop-up" menu selection tool. It's very compact and can display a list of up to 32 individual text items. You could use this, for example, to choose between LFO waveforms, effect types, directions of a step sequencer playback, and more.
Monitor
The Monitor doesn't send any data when you touch it. Its purpose is to display values from other objects or information sent to Lemur from another device (computer, synthesizer or other).
MultiBall
A longtime favourite of Lemur fans, the MultiBall object presents a number of balls in a rectangular space. By balancing the numerous physical properties of this object, you will obtain a wide range of interesting behaviours. The MultiBall supports up to 10 balls and provides 3 parameters for each of those (x,y and z).
MultiSlider
The MultiSlider object tracks movement across an array of sliders (up to 64). It includes a gravity mode which allows it to emulate the physics similar to a plucked string. Your fingers pluck the string by lifting it up in one or more places. Lifting your fingers from the surface releases the string, and its subsequent behavior is determined by the Tension, Friction, and Height values.
Pads
The Pads object is a two-dimensional array of buttons (up to 16×16). They are intended to trigger events instead of represent state, since they eventually return to an 'off' value after you touch them. You can set colour and labels for the whole array or for each individual cell.
Range
The Range Object is a two-point slider with adjustable length. Touch either end to change the width/height of the range. Like the MultiSlider, you can switch use the physical properties to change the way it reacts when you touch or release it.
Breakpoint
Breakpoint offers total control of synthesizer or sampler envelopes with a multi-segment envelope editor. Jump right in and tweak an on-screen representation of the envelope. This familiar, visual interface allows you to see exactly how you are changing the sound.
RingArea
The RingArea is another 2D controller, except that the ball is inside a circular space. Moreover, the ball is linked to at least one attractor, so that it comes back to its point when you release it. The attractors' position can be control by other objects and the ball itself can of course use physical properties.
SignalScope
The SignalScope displays values of other objects and variables on your Lemur. The 'trace' shows a recent history of the value of what you are monitoring. Use this to display information or to create visualizations.
Sequencer
Lemur 5.0 introduces a family of new features for tight sequencing. This includes three new objects: StepNote, StepSwitch and StepSlider. Each of these provides a different flavour of sequencing and is ready to use right out of the box. We completely revamped the internal timing system. This means rock solid timing, either with internal clock or syncing to external machines. You can use Lemur as a complementary sequencer in your setup, or use it as the central sequencer in your live jamming rig.
SurfaceLCD
The SurfaceLCD object emulates traditional control surfaces' LCD, making use of the MIDI input capabilities of the Lemur. This object lets you display track names, parameter changes, timecode, all updated in real-time by your DAW.
Switches
The Switches object is a two-dimensional array (up to 16×16) of toggle switches whose values are reversed when you touch them. Switches can be used to represent and transmit one or more on-off states. Like the Pads object, colours are labels can be set globally or for each individual cell.
Text
The Text Object produces no data when you touch it. Its purpose is to display arbitrary text including whitespace characters typed in via the Lemur Editor, sent by an OSC message or triggered by a script.
//