Altiverb 7 is the industry standard convolution reverb plug-in for Mac OS X and Windows. It uses top quality samples of real spaces to create reverb, ranging from Sydney Opera House to the cockpit of a Jumbo Jet. Altiverb 7 is efficient on the cpu, offers many parameters to tweak reverb, is total recall automatable, and has 64 bit support.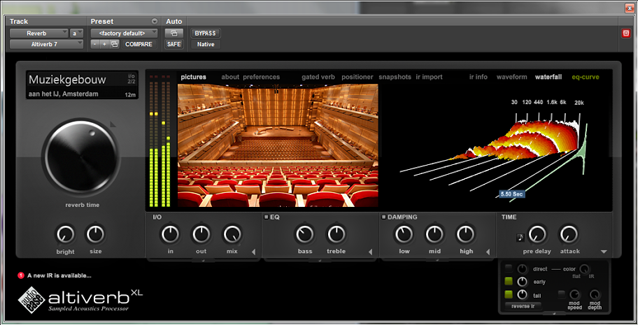 7.2 update finally adds Windows support
This update features the all new AAX 64 (and 32) bit plug-in for Pro Tools 10 & 11 and of course a 32 and 64 bits VST plug-in for Windows. Altiverb 7.2 smoothly replaces all Altiverb instances in your existing projects/sessions, like on Mac.
Longer than anyone in the industry, and with more ear for detail, Audio Ease has been traveling the world to record the acoustics of the very best sounding spaces. The results of hundreds of these travels are included with Altiverb 7. From London's Wembley stadium to the ancient caves of the island of Malta, and the churches, concert halls and rock studios of the cities of Paris, Amsterdam, Berlin and New York.
The Impulse Response library is now more accessible then ever because of Altiverb's new visual browser. Select impulse responses by clicking photos of rooms. Instant gapless loading, organise-by-size, and single click favorites are just a few of its features. The Impulse Response Browser contains a keyword search field, single click downloading and installing of new (free) impulse responses.