AIR Music Technology introduces The Riser, an all­new synthesizer for creating powerful transitions. Created with electronic dance music producers and DJs in mind, The Riser infuses tracks with progression and hype brimming with AIR's signature sound quality.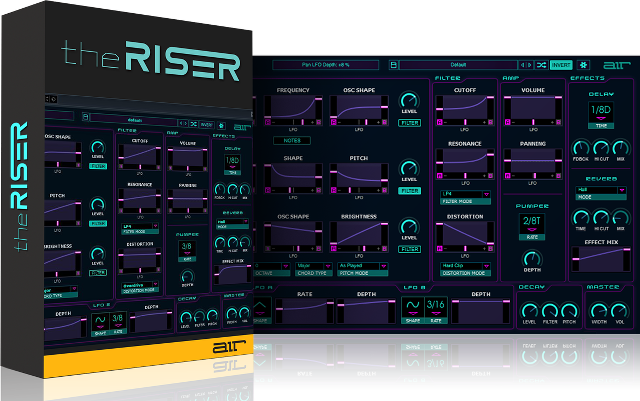 At the heart of The Riser are three editable sound generators – sweep, noise, and chord – letting the user manipulate the movement, timber, and tonality of the transition. Three low­frequency oscillators (LFOs) provide modulation duties to each patch, including beat­synced movements and the "Pumper" effect – a modern pulsating effect used to modify dynamics. Reverb, delay, and mixer controls let the user shape transition volume, effect saturation, and stereo imaging. Users may draw transitions from scratch, or, edit 300 presets spanning rises, falls, swells, fades, and more.
"We understand the science behind the suspense and emotion that a great transition delivers," noted Ben Wendelstein, AIR Music Tech Product Manager, "Until now, recreating the transition in your head has been a convoluted, manual process. The Riser puts intuitive sound­shaping tools right where you need them so you can design effects that keep the listener on the edge of their seat."
The Riser highlights:
● Transition designer optimized for electronic music production
● 3 editable oscillators; sweep, noise, and chord
● 3 LFOs; free­running, tempo­synced, and Pumper
● Pumper effect creates pulsating movement based on native DAW tempo
● Configurable delay and reverb with wet/dry processing
● Adjustable panning movements and master stereo width control
● AU, VST, AAX; 32­ and 64­bit; Mac or Windows 
A full­version, 15­day trial of The Riser will be available as a free download for a limited period of 48 hours, starting August 25th at 12:00 p.m., New York Time. The Riser will be available for purchase on September 1st, 2014 with a price of $79.99 USD. For more information, visit www.airmusictech.com/theriser.