Today, Algoriddim, release a notable update to the widely acclaimed djay 2 app. In this new version, Algoriddim introduces an all-new collaboration with General Electric (GE) including entirely original mechanical sounds bundled within the app. This feature is one of its kind, marking Algoriddim's first-ever branded sound pack. Additional enhancements include an improved Spotify integration and seamless integration with brand new DJ gear from Pioneer.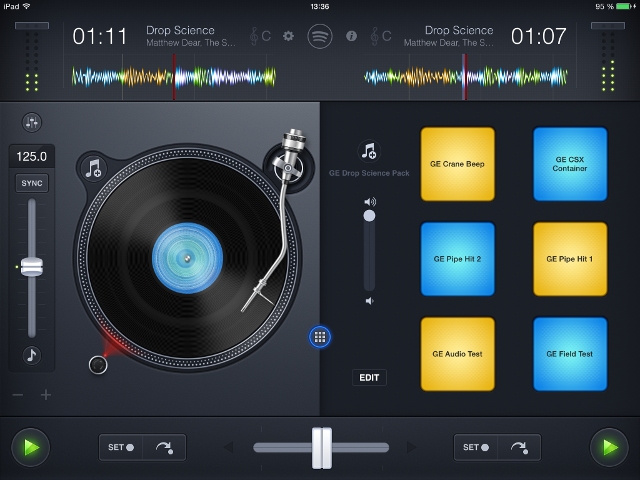 Algoriddim has joined forces with GE to release the innovative "GE Drop Science Pack" into djay 2. The unique pack is the byproduct of GE's recent partnership with famed musician Matthew Dear to create "Drop Science," a new electronic track based on sound samples from GE research centers around the world. On djay 2, users can now access these 12 sounds to remix or mashup their own songs for both iPhone and iPad. The sounds are available on djay 2 and enable DJs to go beyond the traditional party horn and drum loop bits for an entirely new and original compilation.
"We're thrilled to partner with GE to provide djay users with unique sounds that are inspired by GE machines", says Karim Morsy, CEO of Algoriddim. "These sounds will give DJs new ways of expression and we can't wait to see what our users will come up with."
"We're excited to be partnered with Algoriddim on this extension of Drop Science, and to make the sounds of GE machines available to the creative community on djay 2. These machine sounds are critical to GE R&D and operations, but we hope they also provide a unique and beautiful source of inspiration to the djay 2 community," says Katrina Craigwell, Head of Global Digital Programming at GE.
In addition, the update to djay 2's integration with Spotify now allows users to mix in key from their Spotify library for an unprecedented mash-up experience. Now, the key and beats per minute (BPM) of millions of songs are pre-analyzed and visible instantly when browsing djay's media library access to Spotify. Algoriddim also strengthened their partnership with leading DJ brand Pioneer DJ with the introduction of a new MIDI controller, the DDJ-WeGo3. djay 2 now features an optimized user interface that is tailored precisely for the hardware, the ability to control up to three audio FX simultaneously and dedicated hardware buttons for easy access to djay's sound effects and samples.
Complementary in their design and functionality, each of the new app features work in tandem to create an amplified and improved experience for DJs around the world.
djay 2 is available on the App Store