Blue Cat Audio have released Blue Cat's Plug'n Script, a new scripting plug-in that can be programmed to quickly build custom audio and MIDI effects or virtual instruments, without quitting your favorite Digital Audio Workstation.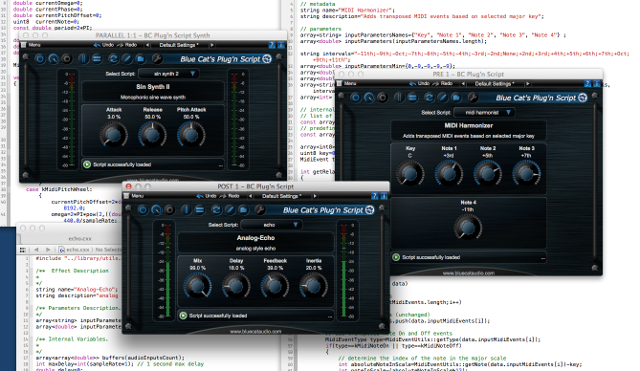 With this plug-in, it is possible to write your own real time or offline processors or instruments, with very little knowledge about programming: it is a very simple way to start learning audio and MIDI processing. Experienced audio software developers will also find it convenient to quickly prototype algorithms right into a DAW and drastically reduce development costs. It can also be used by non-programmers as a multi-purpose processor, thanks to the 46 scripts and 120 presets that are included in the package.
The plug-in is available alone or as part of the Blue Cat's All Plug-ins Pack, the complete Blue Cat Audio collection bundle. A special introduction price (25% off the plug-in) is offered to new customers until October 15th, while existing Blue Cat Audio customers will receive by email special offers to purchase the plug-in. Demo versions are available for VST, RTAS, AAX, Audio Unit and DirectX formats, for both Mac and PC (32 and 64-bit).
Main Features:
– Audio and MIDI scripting plug-in.
– Build your own Audio and MIDI effects or virtual instruments.
– Simple scripting syntax, using the AngelScript language (similar to C++, Java or JavaScript).
– The user interface adapts to scripts automatically. Build your own using Blue Cat's KUIML language.
– Up to 48 input parameters and 32 outputs, with full MIDI and automation control.
– Use your favorite Integrated Development Environment (IDE) for editing.
– Integrated JIT (Just In Time) compiler for optimal performance (scripts are not interpreted but compiled).
– Includes 46 scripts and 120 presets for sound synthesis, MIDI FX, audio FX (comp, gate, tremolo echo, filters…), waveform generation and more.
– Surround support (up to 8 audio channels).
– Integrated undo/redo.
– Use the included user interface or write your own for your own scripts.
System requirements:
– Intel Mac running Mac OS 10.5 or newer.
– PC running Windows XP or newer.
Pricing:
Blue Cat's Plug'n Script: 59 EUR or $74 (instead of 79 EUR or $99), until October 15th