Digidesign started shipping the Synchronic plug-in for Pro Tools. Whether in a studio environment or onstage, Synchronic gives you the power to substantially modify looped audio on the fly and, in the process, define your signature sound.


An ideal instrument for spontaneous composition and improvisation, Synchronic offers performing electronic musicians and DJs the ability to sculpt loops and create tempo-based effects in a live setting in real time. With Synchronic, you can easily create rhythmic modifications and in-tempo effects with individual beats and beat subdivisions within a loop.
Synchronic features five main sections or modules, each of which can be edited, stored, and recalled through presets accessible via the plug-in:


* Sound Module — The Sound module can load up to twelve different mono or stereo audio files of any bit depth and sample rate. After importing a file, the loop can be sliced up to play in synchronization with the Pro Tools MIDI Beat Clock. Any two sounds (A and B sources) can be played back simultaneously.

* Playback Module — The Playback module manipulates the output of the Sound module. Various aspects of sound playback — such as speed, order, duration and direction, as well as modes such as STAB, SPIN, and SMEAR — are synchronized with the Pro Tools MIDI Beat Clock.

* Effect Module — This module processes the output of the Playback module and can be synced to the Pro Tools MIDI Beat Clock to introduce any combination of four concurrent in-tempo effects: Gain, Noise, Filter, and Delay.

* XFade Module — Synchronic's XFade (crossfade) module mixes the A and B sounds after they have been processed by the Sound, Playback and Effect modules. The crossfade between the A and B sounds can be controlled by either a Synchronic preset or through a mixers crossfader. The XFade module presets can also be synced to the Pro Tools MIDI Beat Clock for in-tempo crossfading.

* MIDI Module — Synchronic's MIDI Module enables you to assign and trigger combinations of sounds and module presets using MIDI. You can also freely map MIDI controllers to Synchronic controls.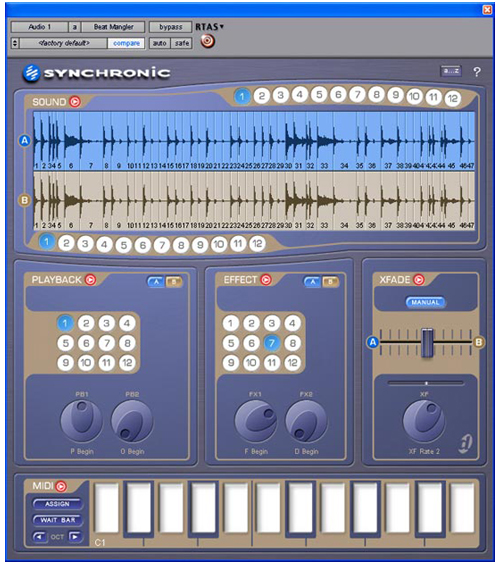 200 MB of royalty-free loops contributed by Digidesigns Development Partners ship with Synchronic to get you going right out of the box. In addition to sample-rate support up to 96 kHz, SD II, WAV, and AIFF files are fully supported and can be easily imported.


Synchronic is compatible with Digidesign-approved Pro Tools|HD, HD Accel, MIX Digi 002, Digi 002 Rack, Mbox, or Digi 001 systems running on Windows XP or Mac OS X. An iLok USB Smart Key and iLok.com account are required for authorization.


Visit www.digidesign.com for more information on Synchronic.