Sonic Charge µTonic is a VST plug-in featuring a unique drum and percussion synthesizer combined with a pattern based drum-machine engine. Originally only available for windows systems, Sonic Charge adds a MAC version to their product range.
Features:

• VSTi 2.0 plug-in, compatible with practically all known VSTi hosts*.

• Available for Windows (98 or later) and Mac OS X (10.2 or later).

• Eight channel drum and percussion synthesizer. Fully automatable.

• Pattern based drum-machine engine, synchronized to the host sequencer.

• 100% synthetic sound, rendered in real-time. No samples!

• Versatile architecture allow for a wide variety of tweakable drums and effects.

• Uncompromised quality. Over-sampled oscillators, sample-accurate triggering etc.

• Typically less than 5% CPU utilization for all eight channels on a 2.0GHz P4.

• Straightforward and easy to use interface with context menus, popup hints etc.

• Plenty of creative editing options, including randomizing functions etc.

• Comes bundled with a hefty chunk of factory sounds and patterns.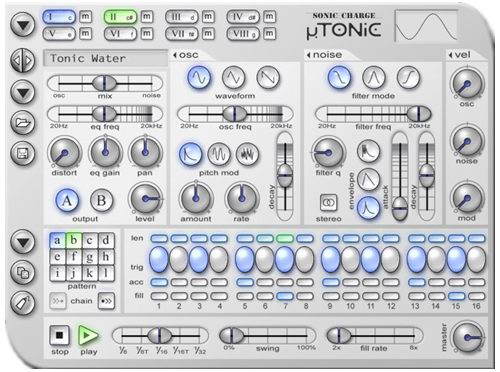 More information and demo downloads at www.soniccharge.com