Steinberg Media Technologies GmbH is proud to announce that Cubase SL3, the latest version of Steinberg's music production software for budget-conscious audio professionals, will ship worldwide from October 25th 2004.




"Cubase SL3 is, technologically, possibly the most advanced software in its price class," states Claus Menke, Steinberg's Head of Product Management. "We've tailored this Cubase version to the needs of the budget-conscious professional, and it offers a unique level of advanced functionality in its price class," he continues.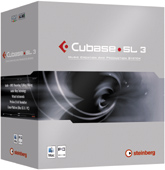 Advanced Music Composition


Cubase SL3 offers an array of new features to make composition more creative and spontaneous. The next-generation Audio Warp engine offers import of ACID® files and time-stretching and pitch-shifting in real-time that free Cubase SL3 from the limitations of tempi; audio can now automatically follow almost any tempo set for a project in real-time. The intuitive Play Order Track feature offers new tools for pattern-style composers, and also allows quick and easy checking of alternative song arrangements. The new Pre-Record feature makes losing great musical ideas almost impossible, by automatically recording up to 10 minutes of audio, even if record wasn't engaged.




Improved Workflow


Cubase SL3 offers a range of new functionality and improvements that make working more fluent, easy and efficient. The new Workspace concept allows layouts to be created for each step of the production process, and users can switch between these tailored workspaces with a single key command. Color coding also increases visibility by allowing colors to be specified for tracks and VST Mixer channels, essential for keeping an overview in complex projects. The Extended Freeze function offers quick, efficient "freezing" of VST instruments and audio tracks and their insert effects.




Cubase SL3 or Cubase SX3?


Cubase SL3 offers a solution tailored to budget-conscious professionals and semi-professional users looking for top-level, cross platform compositional tools and Steinberg's 32-bit floating point audio engine, but do not need certain functions such as surround production or full score layout and printing.




Pricing and availability


Cubase SL3 will ship from October 25th 2004, and will cost $399.99 USD MSRP. Cubase SL 2 owners can upgrade to Cubase SL3 for only $99.99 US.