Firium 2.1 and Eqium 2.1 now available – Elemental Audio Systems today announced the availability of the newest versions of its two flagship audio equalizer plug-ins, Firium and Eqium. In addition to new features and improvements, these new versions include improved Audio Unit support for better compatibility with Apple Logic 7 and other up-to-date Audio Unit applications. Firium and Eqium support a range of common plug-in formats and are compatible with popular host applications including Digidesign Pro Tools, Steinberg Cubase, and BIAS Peak. Firium and Eqium are available individually for $129 each or bundled for $169. The updated versions are free to registered customers.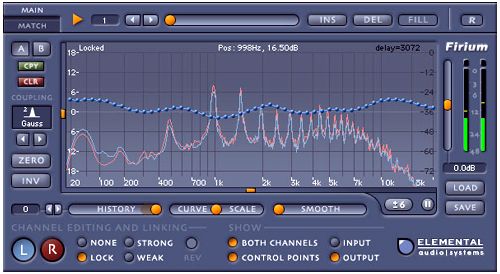 Firium is an intuitive linear phase equalizer that allows users to draw their desired EQ directly. The latest version of Firium adds mono support, so users can utilize Firium's transparent equalization on their most common tracks, and improved spectral matching. Firium includes a host of features to make it easier to obtain the ideal EQ. Spectral matching allows users to make an audio source have a similar frequency response as another. Firium's STATES allow users to coordinate multiple EQs for use on a track or mix, and to produce creative effects like EQ morphing. Other highlights include: spectrum analyzer, EQ smoothing, scaling, and shifting, and an extensive EQ history for analysis and comparison.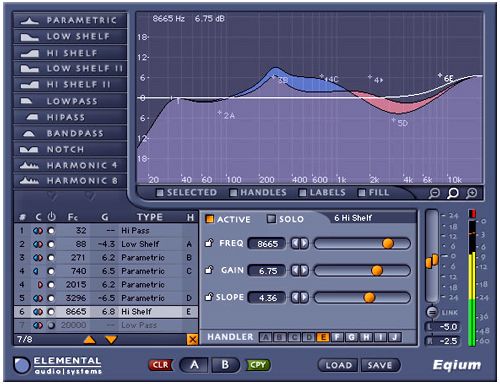 An unlimited band EQ toolbox, Eqium allows users to create a custom EQ exactly to their specifications. Eqium offers eleven filter types ranging from the basic, like peaking and high/low shelf, to specialty, like notch and harmonic parametric. Version 2.1 of Eqium adds keyboard text entry of filter parameters for enhanced ease-of-use and mono Pro Tools Mac Audio Suite support. Eqium still provides the same pristine sound quality professionals have come to expect and all of Eqium's most popular features remain unchanged: parameter locking, customizable frequency response display, support for sampling rates up to 192 kHz.


Firium and Eqium are available, for a limited time, bundled with Elemental Audio Systems new compressor plug-in, Neodynium, for $239. This offer expires on November 12, 2004.