With XPRESS KEYBOARDS Native Instruments has realized three software music instruments that combine an outstanding sound with incredible ease-of-use. The bundle includes the XPRESS versions of the B4, PRO-53, and FM7, making it the perfect option for instrumentalists who see themselves first and foremost as musicians and who want to get straight to making music.
Three legendary instruments – The XPRESS KEYBOARDS generate the sounds of three legendary classics, which to this day have not lost an ounce of their popularity. Each instrument represents a milestone in music history: B4 XPRESS produces the sound of the legendary B3 drawbar organ including rotary speaker. PRO-53 XPRESS generates the sound of the beloved Prophet-5TM analog synth. FM7 XPRESS delivers the modern and digital sound of the famous FM synths of the 1980s.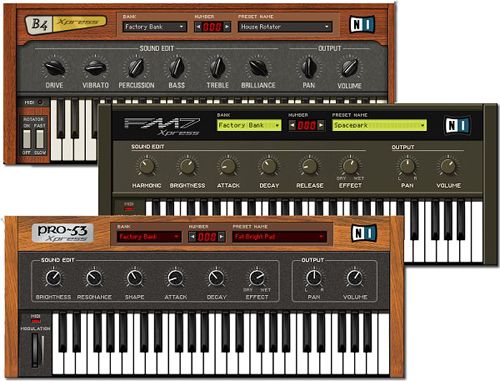 The three XPRESS KEYBOARDS are designed for maximum playability and deliver the most popular sounds of their predecessors. Altogether 160 outstanding sounding presets cover an enormous spectrum of sounds, from fat basses to lead and pad sounds, from organ sounds to keyboard tones. In addition the presets can be changed through selected sound parameters – depending on the preset – letting you customize the sound, easy and intuitive.


Professional sound – One of the most important factors when making music is finding a completely convincing and inspiring sound. In this department XPRESS KEYBOARDS set new standards: these brilliant instruments inherit their sound engines from the full versions of B4 Organ, FM7, and PRO-53, instruments known for their perfect sound quality. Professional sound is guaranteed.


Live and in the studio – Since all three instruments can run standalone and as a plug-in, XPRESS KEYBOARDS are equally suited for playing live at home, on stage, and for composing songs in a sequencer.
The XPRESS KEYBOARDS demo versions for Windows and Mac OS X are available now as a free download on the NI website.


For more information, please see www.ni-xpress.com