Filterscape is a flexible sound bending plug-in. It is a parametric equalizer. It is a virtual analog filter. It is a delay effect. It is a modulation device. It is all at once – and more. It offers you the tools and flexibility to spice up your music in ways beyond imagination.

Most of all, Filterscape is great fun to use and to listen to. It's addictive!

A fully functional preview version for MacOS X Audio Units is available for download right now, which gives you an impression until its release in January 2005.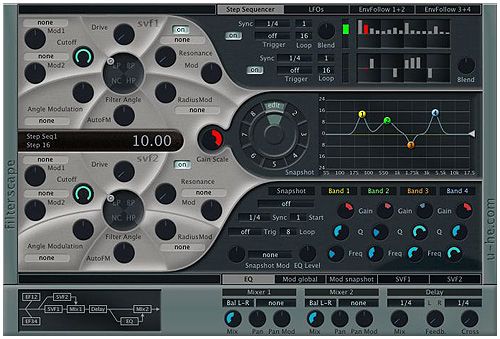 Early adopters can take advantage of the pre-order offer for only 79$ (USD) until X-mas 2004 and save 50$!


Filterscape at a glance:

– Morphing EQ curves, for seamless spectral transitions

– 2 State Variable Filters with mixable outputs for lowpass bandpass, highpass and notch, all with individual panning

– Step Sequencers, Envelope Followers, LFOs, MIDI provide for evolving and rhythmic effects

– Tempo synced delay – EQ and filters can act on the feedback path!

– Flexible, semi-modular routing, including 2 Mixers with modulatable panning

– Hundreds of parameters, yet easy and fun to use

– Visual feedback for all important modulations

– Excellent sound quality, yet cpu friendly

ETA: January 2005, for USD 129$. More info at www.u-he.com/filterscape or check out our productpage (link below).