I.V.I. FOUNDATION – 8 track Rex2 player – Virtual Instrument -PC/MAC – RTAS/VSTi/AU – is ready! Scheduled release set to the 24th of January 2005.


What is new?
FOUNDATION is more than drum loops – Funky Cracklin' HipHop Breaks, Percusion this time mixed with Rhodes Chords, Gtrs, Basses, Horns & Flutes, FX and more. The 3,7 GB DVD is filled with 3000 drum & percussion loops and music elements, together with 5000 drum & Percussion samples!! Most likely all you ever need to start creating that downtempo chill-out trip-hop monster you always dreamed of making.


FOUNDATION continues to define new standards for loopbased Virtual Instruments; an easy to use interface, giving you total tempo independance, realtime playback control, and creative freedom with separated drum loop parts effectively removing all limitations of handling breakbeats and loops. And with possibility to import your own Rex2 files.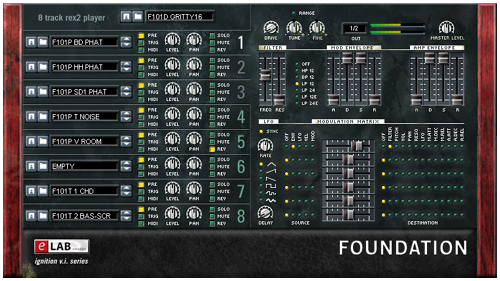 FONDATION 1.2 NEW SOFTWARE UPDATE:

– Ships with I.V.I. version 1.2

– PC/RTAS & VSTi + MAC/RTAS, VSTi & AU

– Multi Edit – Select and edit multiple tracks

– Reverse Mode- Play the loop elements in reverse

– MIDI CC Learn – Works easy with hardware controllers


Download the demo at www.e-lab.se