Roland Corporation, a world leader in the design, manufacture and distribution of electronic musical instruments, professional audio equipment and Universal Audio, a manufacturer of high-quality vintage audio hardware and DSP software plug-ins for digital audio workstations, today announced a licensing agreement between their two companies. Under the terms of this agreement, Universal Audio will develop, market and sell plug-in emulations of classic Roland processors for UA's popular UAD-1 DSP card.
The first three Roland products to be released as UAD-1 plug-ins, the Dimension D Chorus, the CE-1 Chorus and the Roland RE-201 Space Echo, will be made available to customers over the course of 2005.
The Roland Dimension D Chorus:

The Boss CE-1 Chorus:
The Roland RE-201 Space Echo: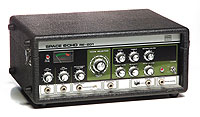 "Universal Audio has a demonstrated ability to create extremely accurate emulations of classic signal processors," said Tom Stephenson, Roland's Manager of Recording Technologies. "In order for Roland to license its trademarks, we must be certain that the level of quality and performance our customers have come to expect is maintained. This is why we are so pleased that Universal Audio will be developing these plug-ins for their UAD-1 platform."



"We are truly honored to have been selected by Roland to emulate these classic products," said Universal Audio's president Matt Ward. "This is a great tribute to the care and detail our DSP and user interface designers put into each plug-in emulation we create. These Roland products have been very high on the request list of our UAD-1 customers and they will be very excited by this announcement."



Universal Audio plans to release the Dimension D to the UAD-1 user base in the second quarter of 2005. The CE-1 chorus will follow in Q3 and the RE-201 will be release in Q4, 2005.