Get to Know Apple's Audio Range – If you're already a music or audio professional, this is your chance to get the latest information from Apple's experts. Video enthusiasts will discover how Apple's innovative solutions can both expand their editing palette and simplify their workflow; while those new to the world of music creation and audio production will learn about the creative potential and sheer fun to be had when you Make Music on the Mac.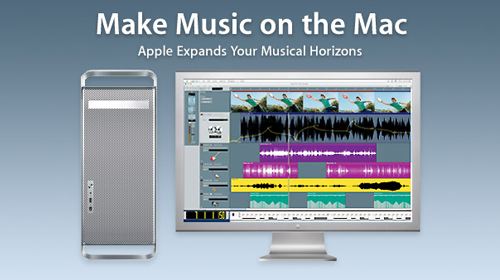 Who Should Attend? – Whether you're an audio production professional, an enthusiastic amateur with a love of music, or a video expert interested in the latest ideas in workflow integration, this is the seminar for you.


What You Will Learn – Find out why the Mac is the ideal platform for music creation and audio production, and learn how Apple's incredible suite of music making tools can help make your music composition and audio production projects even more creative and rewarding.
Seminars will focus on:

– Getting Started with GarageBand: See how GarageBand will encourage your musical creativity, even if you don't currently play an instrument. Take your GarageBand songs even further with upwards compatibility with Logic Express and Logic Pro.

– Audio for Video (Soundtrack): Work with Logic Pro 7 and Final Cut Pro to create the ideal audio and musical soundtrack for your video projects. Work more efficiently and enjoy a better workflow.

– DVD and CD: Learn about editing for DVD with DVD Studio Pro and Logic Pro, and check out Apple's superb tools for mastering and creating professional music CDs.
Seminars are planned in:

– United Kingdom: http://www.apple.com/uk/series/makemusic/

– Germany and Austria: http://www.apple.com/de/series/makemusic/

– The Netherlands: http://www.apple.com/nl/series/makemusic/


Visit the above websites for more information and registration for these FREE seminars.