Urs Heckmann: "I'm happy to announce that Filterscape has now arrived on the PC!
Well, it's not fully perfect, but the beta team has given it a nod for stability and usability. Thus I have decided to make the latest beta version of Filterscape VST Win available for public download. This preview comes with the same features as the Mac version and runs in demo mode. But it will be further developed until the final release, i.e. in case of yet unknown bugs and in order to enhance the user experience even more."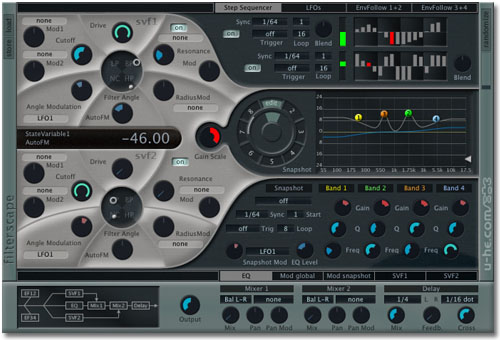 He continues: "So, if you're a Win user and if you're not afraid of some minor issues that we might not have found yet, you're welcome to check this out. Any feedback is appreciated, either by email or preferably in my support forum over at KVRaudio.


Needless to say, I'm very excited that we got things going so well on a platform that I havn't worked on until a few weeks ago. This is also owed to the guys who helped big time in solving issues and to the fellow developers who gave me the important tips when I needed them. Thank you!


To celebrate this event, there'll be a special price for Filterscape over the next couple of weeks: $89, that's $40 off of the normal price, starting today until April 15th 2005.


The final release is also scheduled in that time frame, either on MusikMesse or shortly thereafter."


For more information on Filterscape and the beta preview version for windows download please visit www.u-he.com or visit our Filterscape product page (link below).