Allen & Heath showed three of the latest designs from its award-winning Xone range of DJ products at the Pro Light & Sound exhibition in Frankfurt.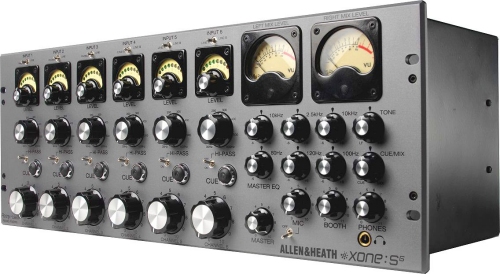 The Xone:S6 – a sister product to the audiophile valve rotary Xone:V6 mixer – made its debut. Offering an almost identical feature set, fitted with the same top quality components, and commanding equal sonic purity, the S6 is an accessible alternative to the top of the range V6. Adopted by the leading clubs Fabric and Ministry of Sound, and the top DJ/producers Louie Vega, Sasha, Eric Morillo and Sander Kleinenberg, the Xone:V6 has set a new standard in DJ mixing since its launch in 2002.



Built to exactly the same high standard as the V6, the S6 retains the V6's key features, including the 6 dual stereo channels with high pass filters and insert points on every channel, accurate signal level metering, "intelligent" cue system, oil-damped precision Penny & Giles rotary faders, custom moulded retro-style LED meters, and class-A configuration circuitry that ensures the trademark transparent sound. The S6 does not have valve preamps or an auto voltage sensing power supply, and offers 3 phono pre-amps instead of 4. Although similar in appearance, the S6 can be distinguished by the extra green meter LEDs instead of the blue LEDs on the V6.



In the meantime, Allen & Heath has upgraded the Xone:V6 to include valve preamps on all 6 channels, without increasing the retail price.



The retail price for the S6 is € 2915.00 and it will be in production in May 2005.