Digidesign is pleased to introduce SoundFuel SOLID, a high-quality synthesizer plug-in for Pro Tools|HD® systems. Developed by SoundFuel in collaboration with Digidesign, SOLID is an exciting plug-in that recreates the warm, analog sounds of '70s and '80s synthesizers while also offering modern patches that are perfect for dance or electronica. SOLID is currently supported by Digidesign-approved Mac-based Pro Tools|HD and Pro Tools|HD Accel systems running Pro Tools® 6.7 or later software. Windows XP support is expected in late 2005.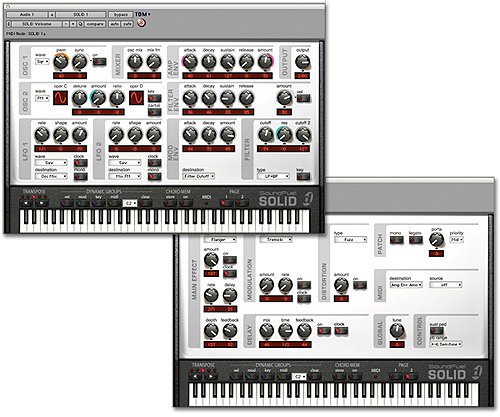 SoundFuel SOLID features extremely low latency to deliver superb timing accuracy and true hardware synth performance. Because SOLID is powered by Pro Tools|HD or Pro Tools|HD Accel DSPs, it can be used liberally, even in large sessions, without taxing the computer's processor. With Pro Tools|HD Accel cards, SOLID operates as an eight-part multi-timbral synth that can produce up to 32 voices per DSP. Pro Tools|HD cards enable SOLID to produce four-part multi-timbral sound with up to 16 voices per DSP.


Offering both "classic" and "DX-FM" modes, SOLID's two oscillators can reproduce analog wave forms for subtractive synthesis or provide two FM operators. The oscillators can also be set independently, allowing the integration of classic analog sounds with FM. A carefully modeled multi-mode filter with resonance, two LFOs, and three envelope generators round off the set of sound creation modules. Additionally, SOLID provides a wide range of effects at the end of the signal chain, from distortion and flanging to delay.


With SOLID's Dynamic Groups, users can control almost any combination of SOLID's parameters in real time through a variety of external sources, including a mod wheel, velocity messages generated by a MIDI keyboard, or user-defined MIDI controller messages. Dynamic Groups allow complex modulations that are easy to set up and yield impressive results when playing SOLID as a live instrument.


SOLID ships with a large selection of more than 250 sounds, ranging from rich, smooth pads to aggressive leads and deep basses.


For more information, visit Digidesign's website at www.digidesign.com or check out our SOLID product page (link below).