Wizoo announced Wizooverb W2, a brand new reverb plug-in, and they will be showing it for the first time at Musikmesse in Frankfurt next week. Also planned for release later this year is Wizooverb W5 which features 5.1 Surround, an FX section and 25 HDIR models. Both will be available for Windows and MacOS X in VST, AU, RTAS and Standalone versions.


The Wizooverb W2 "High-End True Stereo Room Emulator" includes 15 HDIR (High Definition Impulse Response) models providing acoustic fingerprints of excellent sounding rooms with a precision and clarity apparently only possible with this "ground breaking" technology. Wizoo claims that HDIR is the difference between 'adding an effect' and 'putting your track into a real room'.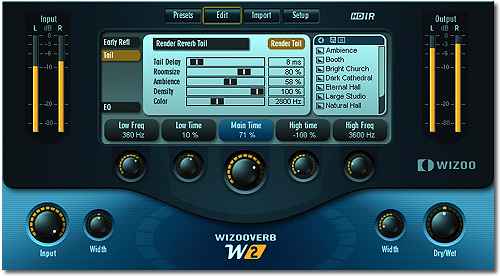 Wizooverb W2 features:

* HDIR standard: High-end room emulation with unprecedented quality, definition, clarity and spatial accuracy.

* AIR: Vast range of creative options from slight adjustments to entirely surreal spaces.

* Import of impulse responses. IR optimisation has the potential to make user IRs sound significantly better than in conventional reverbs.

* Flexible combination of AIR and HDIR: Mode can be chosen separately for Early Reflections and Reverb Tail.

* Complete set of 15 HDIR models.

* 100 user-editable presets from high-end room emulations to completely surreal spaces.

* Latency-free.

* Fast yet deep editing options including graphic impulse response editing and detailed room parameterization.

* Highly optimized CPU efficiency: Multiple instances usable even on average systems.

* True Stereo: The reverb signal accurately reflects the signal position, leaving the imaging of the mix intact.


Wizooverb W5 is Wizooverb W2's big brother and features 5.1 Surround, an FX section and 25 HDIR models.

As soon as we have more information on the W5 version and release dates and pricing of both plug ins we will lett you know.