Native Instruments and Waves are excited to announce a special limited-time
crossgrade offer for their respective bundle customers. Starting today,
existing users are being offered substantial complementary discounts on the
Waves Renaissance Maxx and Gold bundles and on the NI KOMPLETE 2 collection.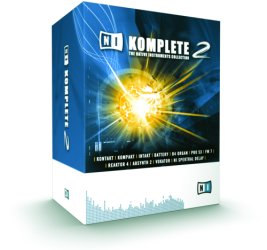 Owners of NI KOMPLETE 2 can now take advantage of a 30% discount on the
native version of the Waves Renaissance Maxx bundle, a stunning collection
of seven high-end signal processing plug-ins including compressors,
equalizers, reverbs and much more. NI KOMPLETE CARE 2005 customers also have
the additional option of a 30% reduction on the native version of the Waves
Gold bundle, an even more comprehensive collection that includes twelve
further must-have effects for mixing, mastering and sound design.



Furthermore, all owners of a Waves Gold, Platinum and Diamond bundle are
eligible for an over 30% discount on NI KOMPLETE 2, the comprehensive
product bundle from Native Instruments consisting of eleven critically
acclaimed software synthesizers, samplers and effects. NI KOMPLETE 2
contains the latest versions of all included products, including KONTAKT 2
and the recently announced REAKTOR 5.



"Native Instruments and Waves share a very similar track record for
uncompromising quality and relentless innovation in audio software" says
Daniel Haver, CEO of Native Instruments. "Combining the powerful effects
bundles from Waves with our comprehensive NI KOMPLETE 2 instrument
collection is a smart step to take for every musician and producer, and we
are happy to give our customers the opportunity to supercharge their studio
at an even more affordable price."



"There is a natural connection between Waves' and Native Instrument
customers," noted Waves CEO Gilad Keren, "because they are all demanding and
accomplished users of musical software. We also know there is a lot of
overlap among the two groups; this promotion makes it easy for users of
either software to upgrade or try what they've been missing."



The "Waves Renaissance Maxx for NI" bundle is priced at $420 / 357 Euro,
while the "Waves Gold for NI" bundle is offered for $910 / 773 Euro. Both
crossgrades are available now from authorized dealers and in the Waves
Online Shop.



The NI Komplete 2 crossgrade for Waves customers is available now for $999 /
899 Euro from authorized dealers and in the NI Online Shop.



The Waves & Native Instruments Special Crossgrade Offer is valid until June
30th 2005.