Steinberg Media Technologies GmbH today announced that its latest VSTi product, Virtual Bassist, is now shipping worldwide. Based on real performances by studio bass players, Virtual Bassist offers a range of bass phrases, grooves and styles and covers musical styles ranging through rock, pop, reggae, metal and hip hop to name but a few.
"Virtual Bassist is probably the first product in the virtual instrument world to offer a full virtual bass player within DAW environments that really behaves and sounds like a real bass player," says Helge Vogt, Steinberg's Product Manager for Virtual Instruments. "We've concentrated not only on providing the most dynamic grooves, gorgeous sound quality and astounding realism, but also on making that instantly accessible to the customer," Vogt continues.
Virtual Bassist offers real phrases played by studio bass players, covering a huge range of musical styles with its vast pool of sounds and grooves. Owners of Steinberg's other "Virtual Band" members Groove Agent (2), Virtual Guitarist and Virtual Guitarist Electric Edition will find a set of grooves that perfectly match the rhythm parts from those instruments, forming a powerful and versatile backing band. The integrated GrooveMatch technology allows users to quickly adapt their Virtual Bassist parts to drum grooves, moulding bass parts to existing beats. Steinberg's Virtual
Bassist is also designed to be eminently "playable", with MIDI keyboard notes selecting the pitch of the played groove while the Modulation wheel allows simultaneous and dynamic switching between groove complexity levels.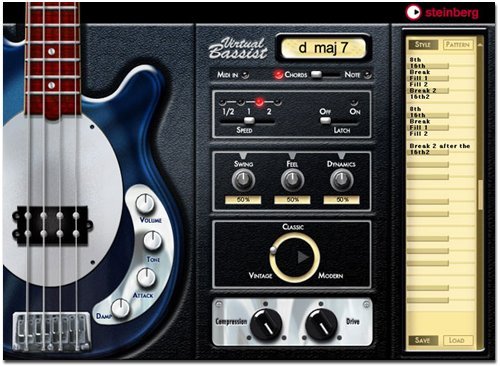 Virtual Bassist supports all major plug-in formats such as VST, DXi, and AU. ReWire support offers easy integration into Pro Tools®, while the standalone version allows Virtual Bassist to be used without a host application.
Virtual Bassist is available for €239.00. Virtual Bassist requires an installed Steinberg USB copy protection device (or Steinberg Key).