Native Instruments is excited to announce Akoustik Piano, a new sample-based software instrument that brings four classic pianos to life with unprecedented authenticity, flexibility and ease of use. Akoustik Piano recreates each nuance and detail of the original instruments by combining elaborate multi-sampling with sophisticated emulation of soundboard
resonance and pedal behaviour. At the same time, it remains both efficient and convenient to use for a wide range of musical styles and applications.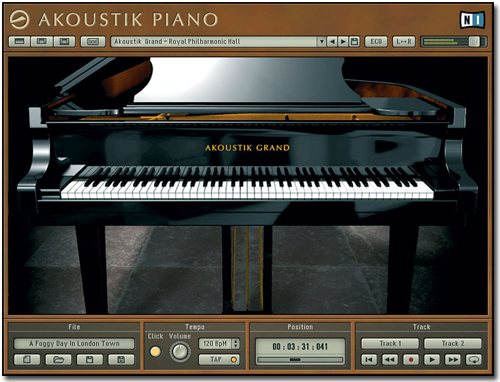 Akoustik Piano includes three famous Grand pianos that have been at the heart of countless classical concerts and recordings for many decades – the powerful and dynamic Boesendorfer 290 Imperial, the crystal-clear and versatile Steinway D, and the gentle Bechstein D 280 with its subtle harmonic overtones. Also included is the Steingraeber Model 130, an acclaimed upright piano offering a warm, compact tone that can fit perfectly whenever a majestic Concert Grand sound is not the first choice.

For inclusion into Akoustik Piano, each of the original instruments was carefully set up and recorded using a special recording technique that completely minimized room ambience, resulting in pristine and universally pure sound quality. All four instruments have been captured in 10 velocity levels, and with full sustain phases.

Akoustik Piano puts a strong focus on the accurate recreation of soundboard resonance for realistic playing behaviour. Special attention was given to the authentic implementation of the sustain, sustenuto and soft pedals, even including the effect of pressing the sustain pedal after a note has been struck. Expert settings allow for individual changes to the soundboard resonance characteristics, the key and pedal noise, and the position of the piano lid for each of the four instruments.

Akoustik Piano also includes strikingly realistic ambience on the basis of an integrated state-of-the-art convolution reverb, offering accurate sonic representations of a Concert Hall, Recording Studio, Cathedral, and Jazz Club. Ambience characteristics can be fine-tuned in the Expert section of the instrument, which also includes various controls for stereo positioning, tuning, and velocity response as well as versatile 3-band-equalizer.

Akoustik Piano can be used with any major host sequencer on the market, and due to its additional standalone mode is also a self-contained instrument that lends itself perfectly to expressive and nuanced live performances. Direct-From-Disk streaming technology significantly reduces the memory requirements of the instrument, while an optional ECO mode allows for smooth operation even on less powerful computer setups.

For rehearsal and music education, Akoustik Piano is also equipped with a basic MIDI filer player, a two-channel performance recorder with Render-to-Disk option, and a versatile metronome, allowing musicians to record their piano playing and even accompany themselves without the need for a separate music sequencer application.

Akoustik Piano will be available in September 2005 for for a suggested retail price of $349/299 Euro from authorized dealers and in the NI Online Shop.