Version update 1.6 for Crunchessor – a general-purpose track compressor PC VST plug-in – is now available for download. One of the main advantages of this compressor is the easiness of tuning which at the same time instantly delivers an excellent sonic performance. Another remarkable feature of Crunchessor is its valve-type processing which is applied in parallel to compression. This makes Crunchessor an ideal choice for musicians and producers who are fond of analog compression sound and its warmness.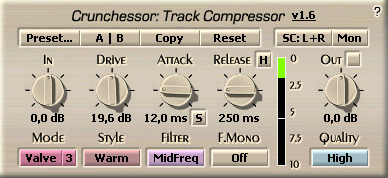 Version 1.6 features several important improvements: side-chaining support has been fully reimplemented. It is now possible to use a wide range of various side-chain channel combinations. Also plug-in now automatically detects side-chain support availability within the host. However, if the plug-in was unable to detect side-chain support you may still enable it manually. Side-chain monitoring now passes side-chain signal processed by the Filter option (i.e. as it is actually passed to the compression stage). This version also features more useful filter options; attack range of compressor has been increased to 400 ms; release range increased to 8000 ms.
For more information and downloads please visit the Voxengo web site.