The MOTU Symphonic Instrument universal orchestral plug-in is now shipping for Mac and Windows with an 8GB sound library, 500 instrument presets, 200 multi-instrument ensembles, 26 built-in convolution reverbs and additional new features.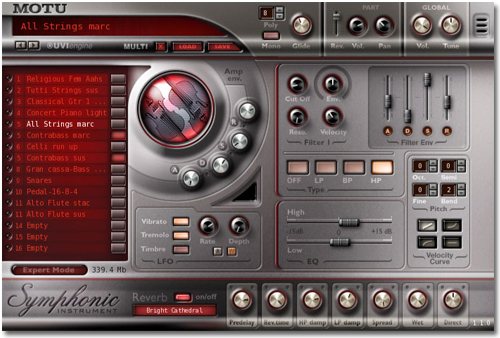 "The MOTU Symphonic Instrument offers unprecedented quality, variety and depth of orchestral sounds for the money," said Jim Cooper, MOTU Director of Marketing. "Combine its stunning instrument library with built-in convolution reverb, universal plug-in compatibility and expressive – yet easy – programming, and you've got a musthave plug-in for anyone interested in orchestral sounds."
The MOTU Symphonic Instrument provides 16-part multitimbral operation and flexible instrument programming in one convenient window using ADSR amplitude envelope controls, an LFO, two filters, tone controls, pitch controls and velocity response. Convolution reverb can be applied to any instrument or ensemble for realistic acoustic space treatments, from small stages to concert halls to large cathedrals. The MOTU Symphonic instrument is driven by the 32-bit UVI engine, acclaimed worldwide for its lush and powerful sound.
Availability and further information The MOTU Symphonic Instrument is now shipping for a list price of $295. Further information about the MOTU Symphonic Instrument can be found at the MOTU website.