Camel Audio have released version 1.6 of their critically acclaimed additive synthesizer which excels at pads and evolving textures. The update adds an improved noise generator with key tracking for brighter, crisper sounds, an improved reverb, key tracking on the filter, improved editing abilities as well as other feature enhancements and bug fixes.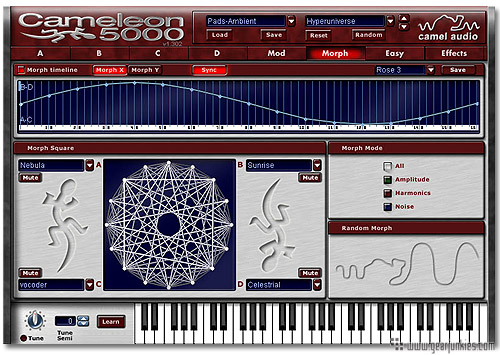 The update comes with an extra 200 presets, for a total of 800, as well as new harmonic and noise profiles. Camel Audio have also released two new sound banks – TC Blue Space by Tim Conrardy is a collection of pads and textures that take advantage of Cameleons new capabilities. Kriminology by Kriminal is a collection of basses, leads and pads.
Camel Audio have also added a new tutorial to their website entitled 'Phattening your Cameleon' which includes many tips from top preset designers – together with Cameleons new features it will help you to get a thicker sound from Cameleon. The update and new sound banks are all free to registered users, who will be provided with the update via email.
The demo version has also been updated with reduced restrictions (no 15 min timeout, longer gap between silences) and a new set of presets. Therefore there has never been a better time to head over to the Camel Audio website and check out the demo!
New features:
* Improved noise generator for brighter, crisper sounds (select LQ for old noise compatibility)
* Key tracking for noise generator (KT above noise on easy page)
* Key tracking for filter (KT above cutoff)
* Improved reverb
* 200 extra presets included (now over 800, with over 1000 more available from the website)
* New and improved harmonic and noise profiles, extra images
* Easier harmonic editing (log scale)
* Copy/paste harmonic and noise profiles between voices and presets
* Easy partial detune reset (click on central bar for zero detune)
* Easier to select points
* Bug fixes – soft cut fixed, copy button correctly labeled (Mac), Digital Performer issues solved
* New demo presets, demo restrictions reduced – 15 min timeout removed, longer between silences