Princeton Digital today announced a VST implementation of its Plate 2016 reverb. The Plate 2016 is a recreation of the Eventide SP2016 Plate Reverb. Plate 2016 has been available for Pro Tools and become a favorite production tool for sculpting drum and guitar sounds.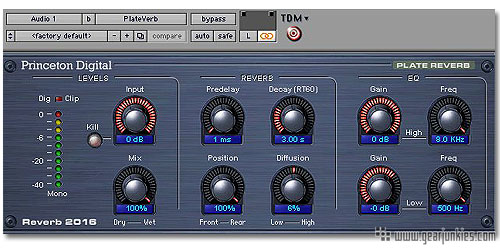 "The ProTools Plate2016 has been shipping for over a year now and it's been gratifying to hear that people like the sound and find it to be a useful production tool," said Tony Agnello, President of Princeton Digital. "Several users have asked about a VST version. Here it is."
Plate 2016 supports sample rates of 44.1, 48, and 96 KHz. It uses challenge/response copy protection. Plate 2016VST is priced at $99 and is available now at Princeton Digital. The plug-in will run in demo mode for 10 days or 500 launches.