reFX has released another update for their softsynth Vanguard. After version 1.5. released only a few months ago, they have released version 1.5.1. VANGUARD combines the good old analog synthesizer idea with the latest technology. All analog devices of classic synthesizers are emulated by high-quality DSP (digital signal processing) functions. reFX spent a lot of time programming the synthesis functions, and the result is a warm and rich sounding synthesizer plugin with all the benefits of todays digital technology.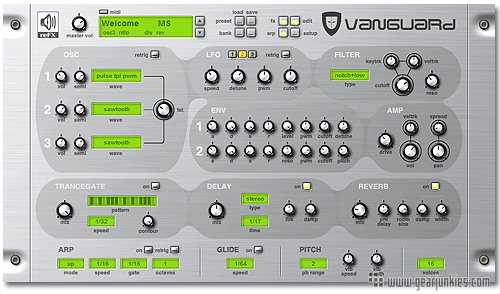 What's New in VANGUARD 1.5.1:
– Performance: The filter-shapers ("band+shp1" & "band+shp2") have been improved slightly.
– Convenience: The OSX AU version can now be resized using the "edit" button.
– Fixed: The OSX version 1.5 was suffering from text-input problems for some users.
– Fixed: The OSX version 1.5 version was also introducing some unintentional distortion.
– Fixed: FL Studio hasn't rememberd the path to the last loaded preset/bank.
Registered customers can download their updates from the Downloads section of the reFX website.