Steinberg today announced that Hypersonic 2, the long-awaited update to its successful Hypersonic music workstation product, will be available soon. Featuring 1.7 GB of top-quality sounds, 1800 factory presets, four sound generation engines as well as excellent resource efficiency, Hypersonic 2 will be available in November 2005.
Combining the best of Steinberg's sound generation technology with top-rate sample content, Hypersonic 2 features not only a 1.7 GB huge sound library but also four specially engineered synthesizer engines. Over 1800 factory presets offer a massive range of first-class sounds that cover the full range of modern and classical instruments and sound sources including pianos and keyboards, strings and wind instruments, drums and percussion, guitars and basses, drum loops, sound FX and much, much more.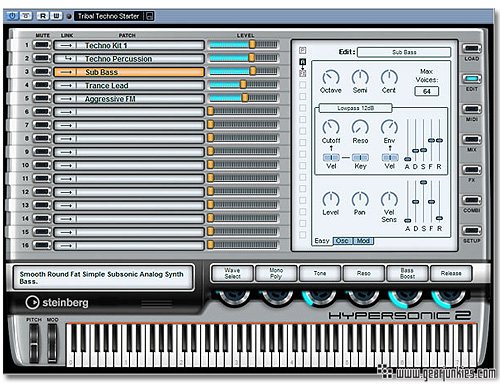 Hypersonic 2 has been engineered to run at maximum CPU efficiency, and features a unique, lossless playback engine that provides significant performance advantages. Up to 1024-voice polyphony across a maximum of 32 outputs is available per instance, with further "under-the-hood" enhancements providing very low CPU load, RAM usage and patch loading times.
Hypersonic 2 also incorporates a range of features to aid swift editing over the enormous range of sounds included. The mixer panel provides full control for panning, output channel and FX levels per patch, while the new patch editor allows speedy access to every sound-shaping parameter. Hyperphrase – a new polyphonic arpeggiator with MIDI file import – is also included, further extending the creative options available. Hypersonic 2 also features the successful HyperKnobs editing concept first seen in Hypersonic 1, offering tailored controls for each patch that allow quick, effective sound tweaking for the most important parameters.
Hypersonic 2 also includes exciting new features for live keyboarders using its immense sonic palette on stage. A new live play mode allows the dynamic loading of patch sets into memory whilst another set is being played. Because the patch change can be triggered with any MIDI controller such as the Mod Wheel or any key, keyboarders playing Hypersonic 2 live can swiftly and dynamically integrate new sounds directly into their performance without even having to look at the computer screen.
Hypersonic 2 is ready for Windows XP and Mac OSX, and supports the VST, DXi and AU standards; ReWire support allows easy integration into Pro Tools® software. A standalone version is also provided. Hypersonic 2 will be available in November 2005 for €389. Existing Hypersonic customers can update to the new Hypersonic 2 version for only €129.