Applied Acoustics Systems has announced that Lounge Lizard EP-3 is now available. This upgrade is for Lounge Lizard EP-1 and EP-2 users who registered after the 1st of September 2005.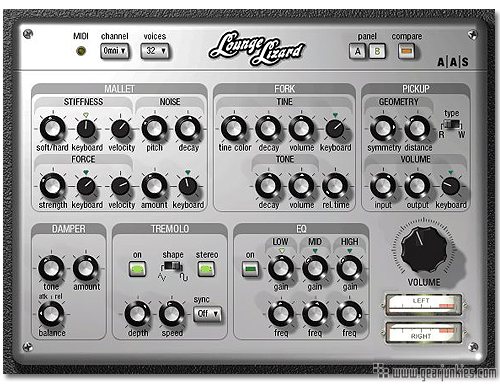 With the Lounge Lizard EP-3, AAS rises the bar in the re-creation of the classic Rhodes™ and Wurlitzer™ electric pianos. Not only does Lounge Lizard EP-3 deliver the authentic tone of the originals but it also preserves their action and feel. Once you get your hands on Lounge Lizard, that elusive electric piano sound becomes a reality—you'll be proppelled into ins­pirational space.
Building up on our physical modeling know-how, we've come up with the refinements that takes one of the most impressive and unanimously acclaimed software ins­trument of the industry further ahead.
What's New in Lounge Lizard EP-3:
* Presets The brand new library fully exploits the refinements on offer and covers all your electric piano needs.
* Effects The high-end effect section has been extended with tremolo, wah, chorus, phaser, delay, reverb, and EQ—making Lounge Lizard a complete and self-contained electric piano solution.
* Pickup model Two pickup types are now available for a wider character range: electromagnetic (Rhodes™) and electrostatic (Wurlitzer™). In addition, scaling has been added for even volume across the entire keyboard.
* Fork model The new and improved Fork model adds upper harmonic content for an even more authentic sound.
* Damper model The improved Damper now closely interacts with the Fork and provides superb dynamic response.
* Audio Recorder The integrated audio Recorder captures inspired moments on the fly.
* Micro-Tuning Custom tunings are now possible with the added support for Scala files.
Lounge Lizard EP-3's MSRP is $249; Upgrade from Lounge Lizard EP-2 and EP-1 is $49; Upgrade from Lounge Lizard EP-2 and EP-1 is free for copies unlocked after September 1st.
Demo and more detailed information is available on the AAS website.