MHC released Ambient Keys for Windows (VST) in November. Now they are proud to announce the release of the Mac version. Ambient Keys 1.0 for Mac OS X is an Audio Unit. It has been validated using the latest version of Apples AU validation tool and complies with the AU standard making it compatible with software such as Garage Band, Logic, Digital Performer, Metro etc.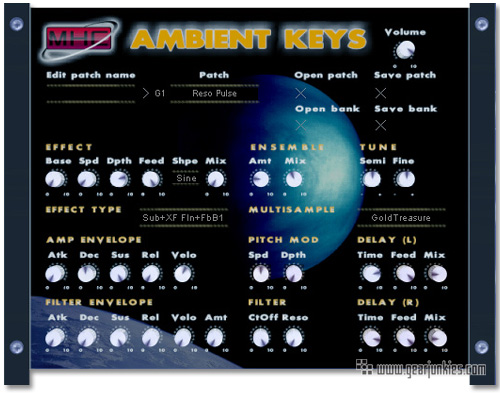 The Mac version has the same features as the Windows version: Ambient Keys is a synthesizer, which plays an extensive set of ambient waveforms, processing these using a filter, envelopes, an LFO, an ensemble, delays and an effect section which features 133 different effect modes, including crossfading effects and layered effects.
Main features are:
– 1024 presets, which are available in three soundpacks (included when purchasing the plug-in). A soundpack is an expansion which adds new ambient waveforms and a set of presets.
– Hundreds of ambient waveforms.
– Crossfading and layered effects involve distortion, filter banks, a resonator, flanger, sub oscillation, amp modulation, pitch shift etc.
– All knobs can be mapped to MIDI controllers with a simple "learn" function.
– Ensemble with adjustable amount and mix. Stereo delays.
– Full polyphony. Only your CPU sets the limit or you may set a fixed voice limit.
Price is $99, including the three soundpacks. A demo version can be downloaded from the MHC website.